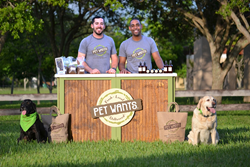 Miami, FL (PRWEB) July 08, 2016
Ever since playing baseball together in high school, long-time friends Caonex Abreu and Javier Echaniz have wanted to go into business and do something that positively impacts the community they call home. After graduating college and pursuing corporate careers, the two decided it was time to fulfill that dream and open a business focused on pets, Pet Wants Miami.
Pet Wants' carefully developed proprietary pet food is slow-cooked with fresh, all-natural ingredients. The dog and cat food is made in small batches once per month so every kibble is guaranteed to be fresh and packed with nutrition. Pet Wants Miami is a mobile service that delivers to Miami Beach, Coral Gables, Brickell, Midtown, Aventura, Doral, Coconut Grove, Pinecrest, Kendall and Palmetto Bay as well as the surrounding communities.
"We've been friends for 15 years and we have a lot of shared interests – starting with baseball, pets and business. Opening Pet Wants Miami combines two of those loves. It gives us the opportunity to offer pet families in this community an awesome pet food option. You can find quality pet food at the pet store, but you have no idea how long it's been sitting on the shelf getting stale and losing nutrients. It doesn't get fresher and of higher quality than Pet Wants," Javier said.
In addition to being made fresh monthly, Pet Wants only sources the best salmon, chicken, lamb, brown rice and other ingredients available. There's no sugar added, no fillers and no animal by-products, and since Pet Wants never uses corn, wheat, soy or dyes, the food is a great fit for pets with allergies.
Caonex and his wife Indi have two furry children, a yellow lab named Popeye and a miniature poodle named Mimi. Javier and Anna also have two kids – their black lab named Sele (Popeye's sister) and their 3-pound Chihuahua named Jei. They found Pet Wants when Caonex was looking for a better food for Popeye – who always had skin issues. When the food made a significant impact on his problem spots, he told Javier about the food. Javier's Sele had been fighting her own battles and had just gone through pyometra, a life-threatening emergency surgery. After just a few weeks of eating Pet Wants, Sele had made a full recovery.
"At that point we knew that Pet Wants was an amazing product and something we could bring to our community. We've wanted to go into business together for a long-time, but we never quite found the right opportunity. When Pet Wants came along, we knew it would be a perfect fit for what we wanted to do, and what our community needed," Caonex said.
Before opening Pet Wants, Javier was born and raised in Miami by Argentinian and Colombian parents. He earned his Bachelor's degree from Florida International University and an MBA from St. Thomas University. He has worked in various corporate jobs ranging from media sales to finance. Caonex was born in the Dominican Republic and moved to Miami when he was 5 years old. He also attended Florida International University, where he earned his Bachelor's degree in Hospitality Management, and then attended Nova Southeastern University for a master's degree in Business Leadership. He worked in retail and franchise consulting prior to Pet Wants.
"Opening Pet Wants Miami is a dream come true for both of us, we're looking forward to making a difference in our hometown," Caonex said.
To order Pet Wants food for your favorite companion or to learn about the company, call (305)340-2625, email CAbreu(at)PetWants(dot)com or JEchaniz(at)PetWants(dot)com or visit http://www.PetWantsMiami.com.
About Pet Wants: Pet Wants was started by Michele Hobbs out of love for her pets and frustration. Veterinarians were unable to help relieve her dog's painful skin allergies. After doing much research, Michele discovered the national dog food brand she trusted was not fresh, not all natural, and lacked sufficient nutrition...and when pet food sits in warehouses and store shelves for months and months… it loses even more nutritional value. She was committed to developing a better solution for all dogs and cats. Their food is exclusively crafted… fresh, healthy, slow-cooked and all natural with no sugar added, no fillers and no animal by-products. They source only the best salmon, chicken, lamb, brown rice, and other ingredients. Fresh ingredients make for better food… and better health for pets. And since they never use corn, wheat, soy or dyes, the common pet health problems associated with these ingredients are no longer worries. Their fresh food is conveniently delivered to the customer within weeks of production, not months. Roughly half of Pet Wants products are sold through their store and half through their convenient, home-delivery program. You can learn more at http://www.PetWants.com.