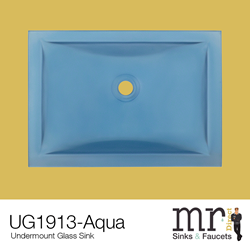 Toledo, Ohio (PRWEB) July 10, 2016
Last year MR Direct introduced a new line of sinks which mount under-the-counter. There is little remarkable about that, except that these undermounts were made of glass. That is rare. These bowls are now available in an oval (UGM) or rectangular (UG1913) form. Both styles were always intended to offer sinks in seven beautiful colors: emerald, frosted (clear), coral, aqua, taupe, black and turquoise. All have been on the market since the collection was announced, except for the UG1913-Aqua, which was delayed in production; until now.
The UG1913-Aqua exhibits a beautiful blue hue and has the same superior features flaunted by all the other UG1913 and UGM models. Its glass is fully tempered, making it especially resilient to breaking; and in the rare instance it should, tiny granules instead of dangerous shards would result. The thickness of the glass further proves its structural integrity. The highly-polished interior is non-porous and sanitary; and the frosted finish presents a glittering, translucent appearance when set in the vanity. If space is an issue, it should be noted that undermounting provides significantly more usable room on the counter compared to glass vessels.
MR Direct has also added a matching, frosted-aqua disc for use with its waterfall faucet. The pairing of a glass undermount sink with a corresponding waterfall faucet design produces a striking combination, certain to draw applause in any bath.
When a touch of blue in a distinctive form is required to accent the bathroom, the UG1913-Aqua bowl serves the purpose. It provides the beauty of blue glass usually seen only in vessel sinks with the functionality typical of porcelain bowls. Learn more about all the MR Direct glass basins by visiting http://www.MRDirectint.com.