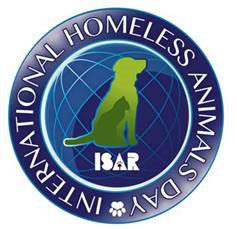 Clarks Summit, PA (PRWEB) July 12, 2016
It was in ISAR's Spring 1992 Newsletter that ISAR first announced the program that now, a quarter-century later, has consistently focused international attention on the dog and cat overpopulation problem: INTERNATIONAL HOMELESS ANIMALS' DAY.
Conceived and commemorated originally in 1992, ISAR's International Homeless Animals' Day (IHAD) is the first and only worldwide event that addresses the urgent need for affordable spay/neuter programs. On International Homeless Animals' Day, ISAR along with animal protection organizations, humane societies, rescue groups, veterinary professionals, caring individuals, public officials, and animal-friendly businesses from throughout the United States, Mexico, Canada and elsewhere abroad join together to send the spay/neuter and adoption message.
This worldwide effort is aimed at halting the euthanasia and suffering of unwanted companion animals. Since its inception, ISAR's International Homeless Animals' Day has continued to grow and gain momentum in the war against dog and cat overpopulation. To date, ISAR's International Homeless Animals' Day observances have been held in all 50 states and the District of Columbia, in over 50 countries, on 6 continents, and on-line!
ISAR's IHAD activities include candlelight vigils, adopt-a-thons, spay/neuter clinics, microchip clinics, blessings of the animals, and heartfelt speeches given by council members, local veterinarians, humane officers and shelter personnel. Additional activities include slideshows, rallies, dog walks, open houses, award ceremonies, live music, raffles, and games.
All confirmed 2016 IHAD events will be listed on ISAR's website: http://www.isaronline.org.
ISAR is asking our friends and supporters to take this opportunity, on August 20, 2016, to unite with animal advocates from around the globe to shed light on the tragedy of pet overpopulation— and the spay/neuter solution.
If you cannot find an International Homeless Animals' Day event in your area please light an online candle at ISAR's 15th annual virtual vigil at http://www.isaronline.org.
Please join ISAR's crusade to end the senseless killing of our beloved companion animals each year.
Together we are a strong voice for positive change!