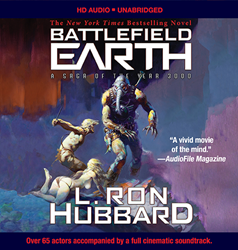 The sheer scope of this production of the epic sci-fi adventure Battlefield Earth is breathtaking - Stephan Rudnicki
Hollywood, CA (PRWEB) July 08, 2016
What do you get when you mix 67 top Hollywood actors with L. Ron Hubbard's internationally acclaimed best-selling novel, Battlefield Earth: A Saga of the Year 3000? You get America's #1 selling audiobook as just announced by Publishers Weekly.
The Battlefield Earth audiobook is a fully immersive experience unlike any other audiobook ever produced, featuring 67 actors from television, film, animation, and video games, led by multiple Grammy Award-winning audiobook producer and narrator Stefan Rudnicki (Best Children's Album, 1999 – The Children's Shakespeare and Best Spoken Word Album, 2013 – Society's Child).
"The sheer scope of this production of the epic sci-fi adventure Battlefield Earth is breathtaking," stated Rudnicki. State-of-the-art audio engineering created a wholly cinematic soundtrack including full orchestral musical compositions combined with more than 150,000 sound effects to create a captivating reality. He went on, "Kudos to Galaxy Press who had to invent recording techniques, and in fact, ways of being, to make this happen."
Other actors involved with this monumental project include Jim Meskimen (Justice League: Gods & Monsters), Scott Menville (Robin on TeenTitans Go!), Fred Tatasciore (Hulk on Avengers Assemble), Phil Proctor (Howard on Rugrats and "Drunk Monkey" in Dr. Dolittle) and Josh Clark (Star Trek: Voyagers and Heroes).
Battlefield Earth is a swashbuckling science fiction saga of adventure, daring, and courage, when man is an endangered species and the future survival of what's left of the human race is at stake. For more information on the Battlefield Earth audiobook, go to http://www.BattlefieldEarth.com .
Audiobook samples can be heard on SoundCloud at https://soundcloud.com/galaxy-758021182
With 19 New York Times bestsellers and more than 350 million copies of his works in circulation, L. Ron Hubbard is among the most acclaimed and widely read authors of our time. In celebration of his fiftieth anniversary as an author, he again returned to the forefront of popular literature with his monumental epics Battlefield Earth and the ten-volume Mission Earth series. Together, these titles dominated international bestseller lists for 153 weeks, and still remain among the all-time classic works of modern speculative fiction.
Read and listen to samples and get more information on Battlefield Earth and L. Ron Hubbard at http://www.BattleFieldEarth.com and http://www.GalaxyPress.com and follow @BE_The_Book on Twitter.