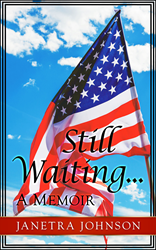 Is There Another Bush Military Performance Record Missing?
Fresno, CA (PRWEB) July 12, 2016
Janetra Johnson is not just an amazing person, she also holds a B.A., and MBA, in business and law! She represented herself pro se all the way to the U.S. Supreme Court. Janetra's memoir, "Still Waiting…" is more than a book. This memoir includes documentary evidence.
In her book she alleges another Bush military performance record is missing. During litigation, on November 5, 2009, top National Guard officials published an unclassified version of the National Guard Technician Performance Appraisal policy that left out a June 2005 version. The deleted version was published by H. Steven Blum, whom President George W. Bush appointed as Chief of National Guard Bureau in 2003. Blum's performance policy was removed shortly after Janetra filed her federal lawsuit against the Guard, claiming its performance policy violated Title VII of the Civil Rights Act of 1964.
If you read this book from front to back, or just turn to the end of the book to view the documentary evidence; each section will shine new and important light on the events and people behind the George W. Bush military service controversy. This controversy was started by Lt. Col. Bill Burkett who said that Bush's performance and pay records were removed from his Guard file to bolster his chances in his 2004 run for President against John Kerry. Years later, Bush's performance controversy was dramatized in the 2015 film Truth, starring Robert Redford as Dan Rather and Cate Blanchett as Mary Mapes and directed by James Vanderbilt. It is based on Mapes' memoir Truth and Duty: The Press, the President and the Privilege of Power.
One must buy this book and see for themselves as words cannot describe how allegations of another missing performance document has come to light!
ABOUT THE AUTHOR
Janetra Johnson lives in Fresno, California with her three children. She earned a master's degree in business administration and a bachelor's degree in pre-law from the University of Phoenix, Fresno and the University of California, Fresno, respectively.
About the Format: Kindle eBook only (137 pp) in English. Due to its large file size (documents in the appendix), this book may take longer to download.
THIS BOOK WILL BE PROMOTED IN THE MONTH OF JULY:
FREE from JUL13-17, 2016 followed by a discount price of $1.99.
Buy at https://www.amazon.com/dp/B01HN0JASW
Read and get more information on Still Waiting… at http://www.Civil1.org and follow on Facebook.
COURT INFORMATION: Johnson v. Departments of the Army and Air Force; et al.
District Court: No. 1:09-cv-00281-LJO-DLB
Appellate Court: No. 10-16450