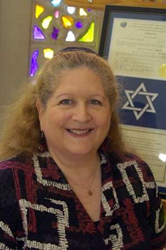 My job as a Rabbi is to bring people closer to G-d, to be with people in their happiness and in their sadness.
New York, New York (PRWEB) August 03, 2016
Sim Shalom, the online synagogue, continues to create innovative programming this summer with Ma'ariv services week nights at 7:00pm EST. International performer Rabbi Judy Caplan Ginsburgh is one of six Sim Shalom Rabbis who will offer congregants a space to connect with Ma 'ariv week night services Monday thru Thursday at 7:00pm EST throughout the summer.
Vacationers traveling abroad or followers staying closer to home can rejoice simply by clicking on their computer screen or mobile device, anywhere with WiFi. Shabbat services will also be offered every Friday at 7:00pm EST and some Saturday mornings at 11:30 am EST. All programs are free and interactive via the live chat feature.
Rabbi Judy, who lives in Louisiana, has used her musical gifts and knowledge of Judaism to engage followers in Jewish worship and ritual throughout the world. Utilizing the theatrics of the one time opera singer, she has transcended the art form of lyrics and dramatic music into story telling as a cantorial soloist, author and Rabbi. She received her Rabbinical Ordination from the online Rabbinical School JSLI Jewish Spiritual Leaders Institute in 2014, where she serves as a faculty member teaching classes on Jewish views on sensitive topics as abortion, adoption and infertility. Rabbi Ginsburgh recently was installed as the Rabbi for Congregation B'nai Israel in Monroe, Louisiana.
For the past thirty years, Rabbi Judy has conducted services across North America and exotic locales, such as Mumbai and Sri Lanka. She has produced a number of award-winning recordings of Jewish music for families including a commission by the URJ, the Union for Reform Judaism, to write a preschool music curriculum titled, "My Jewish World."
Rabbi Ginsburgh is affiliated with UJUC the Union of Jewish Universalist Communities, a compassionate pluralistic movement in Judaism that welcomes all tenets of religious practice. Singing the Mi-shebayrach, Prayer for the Sick, service takes on deeper meaning for Ginsburgh. Thirteen years ago, she founded Central Louisiana Arts & Healthcare, Inc., a non-profit whose mission is to bring arts experiences into hospitals and hospice facilities.
To learn more or participate in the free services at times above click here.
About Sim Shalom and JSLI:
Sim Shalom is an interactive online Jewish Universalist synagogue which is liberal in thought and traditional in liturgy. Created in 2009 by Rabbi Steven Blane on Manhattan's Upper West Side, Sim Shalom offers a means of connecting the unconnected. Rabbi Blane leads accessible and short Kabbalat Shabbat services every Friday night using a virtual interface and additionally Sim Shalom provides online education programs, Jazz concerts, conversion and life-cycle ceremonies along with weeknight services at 7:00PM EST led by Rabbis and students of this online community.
Rabbi Blane is also the Founder and Dean of the Jewish Spiritual Leader's Institute, a rabbinical school for professionals.
Sim Shalom, a non profit 501 © (3) tax-exempt organization, nurtures a Jewish connection through its mission of innovative services, creative education and dynamic outreach to the global community. For more information, visit http://www.simshalom.com or call 201-338-0165