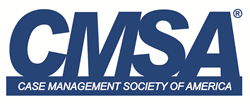 Little Rock, AR (PRWEB) July 11, 2016
The Case Management Society of America is proud to announce the recipients of three prestigious individual awards, which were honored at the 26th Annual Conference & Expo in Long Beach, California in June 2016.
The recipient of the Award of Service Excellence was Ellen Fink-Samnick MSW, ACSW, LCSW, CCM, CRP. With a career in social work spanning over 33 years, Ellen is known and respected as the "Ethical Compass of Case Management." Ellen works tirelessly to empower and advocate for case management professionals. She is a respected author and subject matter expert with over 80 publications on topics including professional resilience, and the ethical dimensions of practice from licensure and title protection, management of bullying and workplace violence, technology, to the evolution of end of life care. An alum from The University of Buffalo she has been a professional speaker, mentor and consultant. She now is principal of her own firm with EFS Supervision Strategies, LLC.
Ellen had the following to say about her award: "Winning the CMSA National Award of Service Excellence has eclipsed my career. Our patients and their families have never been more complex or diverse. How opportune that our professional case management workforce is transdisciplinary in focus and interprofessional in practice. As the first social worker to win this award, there is a profound reminder of the valuable and unique competencies and strengths possessed by each discipline, and individual who enters professional case management."
CMSA's immediate past-president and newly appointed Executive Director, Kathleen Fraser RN-BC, MSN, MHA, CCM, CRRN was awarded the Case Manager of the Year Award. Kathy has been a nurse for 38 years having worked in the Emergency Room and Labor & Delivery as a Director of Nursing. She entered Case Management nearly 24 years ago, creating the 1st Case Management Department for a large national healthcare system.
Kathy says she got into case management because she wanted to be involved in all aspects of a patients care. Kathy believes that working with patients from start to finish makes a true difference in outcomes. Her case management philosophy was recognized when she was selected by Seak, Inc. and the National Workers' Compensation and Occupational Medicine Conference as one of the "50 Most Influential People in Workers' Compensation and Occupational Medicine". In addition to serving as CMSA's National President, she is also on the Role Delineation and Expert Panel Committees of the ANCC Council for Case Management, a past Treasurer/Secretary of the Board of Directors for NTOCC, on the steering committee of the National COPD Foundation, the author of the new CMSA Case Management Medication Adherence Guidelines for COPD and a member of the National Certification Roundtable Committee. Kathy was also a co-chairman of the 2016 Standards of Practice Revision task force.
In her own words Kathy stated the following about her award; "I am so honored to have been chosen as the 2016 Case Manager of the Year! As I said in my acceptance speech, I knew my decision to enter Case Management was almost a divine intervention when shortly after my career change, my father's health took a steep decline due to his COPD. He repeatedly asked me what people do without a Kathleen. My wish since then is for all patients to have a Kathleen, aka a Case Manager. My mission since that time has been and will continue to be, for all patient's in need to have a case manager!"
Finally, the CMSA Board of Directors bestows the Lifetime Achievement Award only to an individual who has made a significant contribution to practice of case management and in support of CMSA. The CMSA Lifetime Achievement Award honors Hussein M. Tahan, PhD, RN for having distinguished himself in both of these categories. Dr. Hussein Tahan's very impressive body of work in case management meets - and exceeds - the criteria for professional accomplishments that have made a significant and lasting impact on the field of case management.
Hussein is the system vice president for nursing professional development and workforce planning for MedStar Health. In this position he is responsible for developing a strategic vision and action plan for the professional development of nursing associates and implementing a workforce planning model that allows leaders to forecast the organization's need for nursing talent.
Upon winning this award Tahan remarked "It is a great honor to be recognized, especially by my peers. I am humbled to know that what I am most passionate about and enjoy doing - the development of knowledge for professional case management practice - makes a difference in the field and the lives of other case managers. I am grateful for the recognition CMSA and its national board of directors bestowed upon me during the annual conference and expo. Spending time with other case managers and experts in the field was energizing and inspiring. It was a reminder of the importance of what I do and an opportunity for a renewed commitment to continue to be in service to the field and other professionals."
CMSA sends congratulations to these recipients, and thanks everyone who helped with the process. For information about CMSA's Awards, visit http://www.cmsa.org/Awards.
About Case Management Society of America (CMSA)
Established in 1990, the Case Management Society of America is the leading non-profit association dedicated to the support and development of the profession of case management. CMSA serves more than 30,000 members, subscribers and participants, and 75 chapters through educational forums, networking opportunities, legislative advocacy and established standards to advance the profession. For more information, visit http://www.cmsa.org or follow CMSA on Twitter @CMSANational.