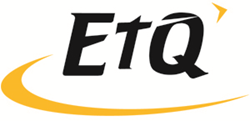 traqpath is the workspace to track compliance with necessary parties and achieve the fullest potential possible
Farmingdale, New York (PRWEB) July 13, 2016
EtQ Unlocks the SME Segment with traqpath says Verdantix Report
EtQ today announced it has been presented by Verdantix as a software provider with compliance and quality management solutions targeted at different sized firms. According to the report, EtQ launched traqpath as a free app in January, 2016.
The report goes on to discuss how traqpath—

Breaks down barriers for task and incident management
Can be used to report and follow up on all types of events
Runs on the same code base as Reliance and Verse
Represents the first step towards automated and centralized EH&S Management
Initiates and escalates corrective actions for serious incidents
Helps mature firms assign tasks and actions to suppliers and contractors
"Verdantix believes that traqpath will establish a strong foothold for untapped small firm markets, and we could not agree more," says Glenn McCarty, chief executive officer of EtQ. "traqpath is the workspace to track compliance with necessary parties and achieve the fullest potential possible."
For more information on EtQ's products and services, visit us at http://www.etq.com.
About Verdantix
Verdantix is an independent research and advisory firm with a focus on energy, environment, health, safety and sustainability markets. Through our qualitative and quantitative research we provide authoritative data, analysis and advice to help our clients achieve their business goals.
About EtQ
EtQ is the leading Quality, EHS, Operational Risk and Compliance management software provider for identifying, mitigating and preventing high-risk events through integration, automation and collaboration. At the core of EtQ's framework is a compliance management platform that enables organizations to implement best-in-class compliance processes configured to meet their existing processes, create new compliance processes and automate and control their compliance ecosystem. EtQ's product lineup includes traqpath™ for individual compliance users, VERSE Solutions™ for small to medium sized businesses and Reliance™ for enterprise organizations. EtQ was founded in 1992 and has main offices located in the U.S. and Europe. To learn more about EtQ and its various product offerings, visit http://www.etq.com or blog.etq.com.