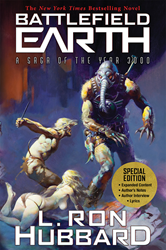 has everything: suspense, pathos, politics, war, humor, diplomacy and intergalactic finance…. SF's new, larger audience is about to discover an old master - Publishers Weekly
Hollywood, CA (PRWEB) July 11, 2016
Battlefield Earth: A Saga of the Year 3000 was published as L. Ron Hubbard's celebration of 50 years as a professional writer. In their review of the book's initial publication, Publishers Weekly noted that in the field of science fiction, L. Ron Hubbard had "gained a reputation as a superlative storyteller with total mastery of plot and pacing" and announced that his new novel "has everything: suspense, pathos, politics, war, humor, diplomacy and intergalactic finance…. SF's new, larger audience is about to discover an old master." The novel was incredibly well received, hitting bestseller lists for over 50 weeks and being voted #3 of the top 150 fiction books of the 20th century by the Modern Library Readers Poll.
So it was little wonder that its 21st century edition is topping charts, winning a "Triple Crown"—#1 trade paperback, #1 science fiction and #1 audiobook—in which Publishers Weekly wrote, "The book's fans, remain legion, and this week, a new edition lands at #1 on our Trade Paperback list and #6 in the country overall."
In March of this year, Publishers Weekly announced the forthcoming audiobook version of the title stating, "In June, Galaxy Press is set to release a full-cast recording of Battlefield Earth, the 1982 science fiction novel by L. Ron Hubbard. The article went on to read, "The Battlefield Earth audio clocks in at longer than 47 and a half hours and features the work of 67 actors. Some other impressive program stats include the use of more than 150,000 sound effects (many of them created for this title) and 2,400 editing hours spent on the final result."
And now with the audiobook also topping the charts, Publishers Weekly noted in their review of the new production, "In terms of production value, this new audio edition is intense." The Battlefield Earth audiobook is a fully immersive experience unlike any other audiobook ever produced, featuring 67 actors from television, film, animation, and video games. The review concluded that there is, "a lot to like in this new action-packed blockbuster of an audio production."
Battlefield Earth is a swashbuckling science fiction saga of adventure, daring, and courage, when man is an endangered species and the future survival of what's left of the human race is at stake.
For more information on the Battlefield Earth audiobook, go to http://www.BattlefieldEarth.com
Audiobook samples can be heard on SoundCloud at https://soundcloud.com/galaxy-758021182
With 19 New York Times bestsellers and more than 350 million copies of his works in circulation, L. Ron Hubbard is among the most acclaimed and widely read authors of our time. In celebration of his fiftieth anniversary as an author, he again returned to the forefront of popular literature with his monumental epics Battlefield Earth and the ten-volume Mission Earth series. Together, these titles dominated international bestseller lists for 153 weeks, and still remain among the all-time classic works of modern speculative fiction.
Follow Battlefield Earth news at @BE_The_Book on Twitter.