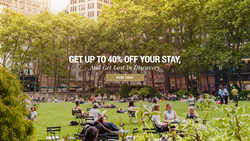 We're excited to help new and repeat visitors discover the city.
(PRWEB) July 12, 2016
Hotel Edison in Times Square is allowing guests to discover New York by offering up to 40% off guests' entire stays booked between July 11th, 2016 and May 31st, 2017. The hotel, which recently unveiled a new series of Signature Guest Rooms, is located in the heart of Times Square. The hotel encourages families to travel to New York to see the city's arts, culture, and history.
"New York City has many attractions for family travel," says Scott Geres. "This special offer will encourage guests to discover why New York is the epicenter of culture, arts, and history. Our walking tours let guests see the Times Square neighborhood for free, while Hotel Edison's central location allows easy access to Central Park, Broadway, Downtown, Penn Station, and Grand Central. We're excited to help new and repeat visitors discover the city."
Hotel Edison's accommodations in Times Square include Classic Guest Rooms and recently remodeled Signature Guest Rooms. The hotel's rooms offer contemporary design details with amenities such as Frette linens, C.O. Bigelow bath amenities, an iHome, LCD flat-screen TVs, along with access to the hotel's fitness center and business center. Signature Rooms include accommodations with Queen bed, King bed, Two Queen beds, Guestrooms with Terraces, Suites with Terraces, and a Suite with a Kitchenette.
Guests of Hotel Edison also have access to free walking tours around the Times Square area, and are welcome to take walking tours from other Triumph Hotels. Every Tuesday and Friday in the lobby, Hotel Edison hosts a Manager's Reception, featuring music and small bites, from 5:00 p.m. to 6:00 p.m. The Rum House, a cocktail bar serving original creations as well as classics, was featured in the movie Birdman is Hotel Edison's onsite lounge.
Hotel Edison's "Get Lost In Discovery" is valid on stays through March 31st, 2017. Learn more about the offer at the hotel's website.
About Hotel Edison
Part of Triumph Hotels, Hotel Edison is a premier New York City hotel inspired by the city's spirit and Times Square's exhilarating energy. An Art Deco masterpiece dating back to the early 1930s, The Hotel Edison carries a glamorous history of hosting celebrities and movie shoots. From its days as a "see and be seen" destination in Times Square to its current status as a renovated Times Square hotel, it has embodied the bold spirit of New York City. Hotel Edison's new Signature series of guest rooms are boutique, newly renovated accommodations that offer guests a luxurious experience in Times Square. Guests may book online or by calling (212) 840-5000.