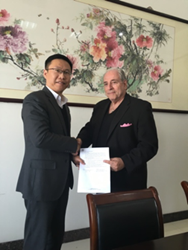 "In alliance with Solar Turbines, GE Jenbacher, Caterpillar, and Fuel Cell Energy, we have provided some of the world's most efficient, lowest emission Cogeneration & Trigeneration systems."- Murray Millander, founder ENRGISTX.
Las Vegas, Nevada (PRWEB) July 12, 2016
ENRGISTX, Inc. (ENRGISTX) announced today that it has signed an exclusive rights agreement to distribute the full product line of Shuangliang Eco-Energy Systems Co., Ltd. (Shuangliang Eco-Energy) in the United States. These products include Absorption Chillers and Heat Pumps.
Shuangliang Eco-Energy, a subsidiary of Shuangliang Group, one of China's top 400 publically traded companies, has a 30 year history of excellence and market leadership in cooling/heating solutions through recovery of waste heat. With over 25,000 installations worldwide, Shuangliang Eco-Energy is the world's leader in Absorption Chillers and Industrial Heat Pumps. Shuangliang Eco-Energy Absorption Chillers have many patents, resulting in industry leading products of the highest efficiencies and proven reliability.
Shuangliang Eco-Energy installations have positively impacted the world as follows:

Savings in electrical consumption, the equivalent of 9,000 Million Watts,
Annual savings of 23 million tons of standard coal,
Emission reduction of 58 million tons of CO2, and
85,000 tons of SO2,
and the equivalent of planting 395,000 acres of forest every year.
"The global market for absorption chillers is projected to reach $983 million by 2020, driven by stringent environmental protection norms and rising demand for energy efficient cooling system", according to Global Industry Analysts Inc.
ENRGISTX network of dealers, contractors, and representatives will distribute Shuangliang Eco-Energy cooling and heating solutions. Visit http://www.enrgistx.com
ENRGISTX is a solutions driven distributor of renewable energy products, with exclusive distribution rights to leading edge and proven technology and solutions. 
ENRGISTX's superior selection of products, selling tools, training technology, sales support, state of the art marketing processes, comprehensive service network and experience sets it apart.
ENRGISTX's founder, Murray Millander, has over 40 years of experience in sales, marketing, contracting, engineering, and management. His companies have produced hundreds of millions in sales.  Murray's company was the first in the US to market a key technology that significantly improved the efficiency of power generation, air conditioning, and enabled the CoGeneration and Tri Generation industry.  He founded MWSK in NYC and Distributed Energy Solutions, Inc. (DES) in San Diego.
UCSD, Qualcomm, Marriott, Equity Offices, Scripps Oceanographic, Turner, Trump, The Daily News and other major builders, owners and developers have used his companies' expertise, services, equipment and solutions.  
For inquiries, contact:
Paul Hewitt
President, ENRGISTX, INC
844-367-4478 (844-ENRGISTX)
sales(at)enrgistx(dot)com
http://www.enrgistx.com