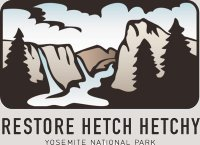 Our appeal alleges that federal government has no direct stake in San Francisco's system, and Congress specifically required that all elements of the City's water system comply with California law
Oakland, CA. (PRWEB) July 13, 2016
Restore Hetch Hetchy notified the Tuolumne County Superior Court today that it is appealing the Court's ruling that prevents California courts from considering the merits of restoring Hetch Hetchy Valley in Yosemite National Park. (Case No. CV 59426). The appeal comes on the eve of the Centennial celebrations of the National Park Service, which was created in response to the flooding and damming of the majestic Hetch Hetchy Valley in 1913.
Restore Hetch Hetchy's case alleges that the reservoir that has buried the Hetch Hetchy Valley under 300 feet of water violates the water diversion mandates in the California Constitution. Restore Hetch Hetchy seeks a hearing in the California courts which would weigh the significant value of restoration against the cost of water system improvements necessary for San Francisco to retain its existing Tuolumne River supplies without Hetch Hetchy Reservoir.
San Francisco argues that the reservoir is subject only to federal law and not to California law and that any such complaint should have been filed decades ago. On April 28, Judge Kevin Seibert ruled in San Francisco's favor.
"Our appeal alleges that federal government has no direct stake in San Francisco's system, and Congress specifically required that all elements of the City's water system comply with California law," said Michael Lozeau, chief counsel for Restore Hetch Hetchy.
The O'Shaughnessy Dam and Hetch Hetchy Reservoir have flooded a valley that conservationist John Muir called "one of nature's rarest and most precious mountain temples." In 1913, the unprecedented debate over building a dam in a national park drew opposition from more than 200 newspapers across the United States. Less than three years later, Congress passed the National Park Service Act, ensuring that no such destruction would ever again be allowed.
Citizens who are interested in joining the 100-year old mission to restore Yosemite's Hetch Hetchy Valley can find out more at http://www.hetchhetchy.org.
Restore Hetch Hetchy's mission is to return the Hetch Hetchy Valley in Yosemite National Park National Park to its natural splendor while continuing to meet the water and power needs of all communities that depend on the Tuolumne River.
Media Relations
Melanie Webber, mWEBB Communications, (949) 307-1723, melanie(at)mwebbcom(dot)com
Elizabeth Johnson, mWEBB Communications, (213) 713-4865, elizabeth(at)mwebbcom(dot)com