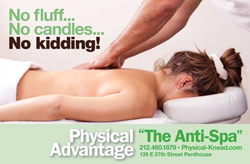 "No fluff, no candles, no kidding!"
New York NY (PRWEB) July 14, 2016
The award-winning sports massage center Physical Advantage PC, lauded for a clientele of professional athletes, dancers and performing artists, will continue to commemorate its decades of press coverage by offering 1996 prices to the public during the summer season.
Physical Advantage can boast twenty years of international accolades in print, online and broadcast media commencing with a cover feature on founder Laurie Towers in Manhattan's Resident newspaper, May '96. Physical Advantage has since been awarded the "Best of New York" by New York magazine over five years and has also been featured in Vogue, Allure, Vanity Fair, Fox 5 NY television, the New York Daily News, Glamour, Los Angeles radio, the New York Post, Tokyo Broadcasting television, Time Out NY, Gotham, Picky's (Japan), Newsday, Men's Fitness RX, Shecky's NY, WDST-FM Radio Woodstock, and the French and London editions of Vogue, among others. Ms. Towers has also authored articles for magazines including Massage, Shape, Flex, Muscle and Fitness for Women and Muscle Sport. Her monthly column for Bella magazine debuted in May of this year. An acknowledged expert in her field, Towers' writings have been incorporated into various fitness books by other exercise and health professionals.
The Physical Advantage brand has been affectionately dubbed "The Anti-Spa" by the press. "Our mantra is "No fluff, no candles...no kidding!" comments Towers. Physical Advantage counts among its clients members of New York major league sports teams including the New York Yankees, Mets, Giants, Jets, Knicks, Nets, Rangers, Islanders and contenders of the New York Open plus professional touring and recording artists in opera, dance and Broadway from Alvin Ailey Dance to the Radio City Rockettes and many more. Another arm to the center is the Bridal Body Shop, a fitness training service for brides and grooms in wedding prep which has spawned its own popular podcast, "The Bridal Body Shop Show". Laurie Towers and co-host Elite Ziegelman offer fitness tips, interviews with trainers and clients, and engage in topical and often humorous banter.
The 20th anniversary celebration begins in July and runs through the summer with a Physical Advantage price list that rolls back the years to 1996. For more information visit http://www.facebook.com/PhysicalAdvantagePC/
Physical Advantage's main office is located on the Upper East Side in the penthouse of 139 East 57th street, New York NY 10022, telephone (212) 460-1879, physicaladvantage(at)aol(dot)com
# # #
Press contact: New Masses Media Relations
John Pietaro (646) 599-0060
NewMassesMedia(at)gmail(dot)com