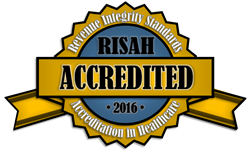 The RISAH accreditation is a direct reflection of each hospital's commitment to improving performance in order to meet or exceed industry best practices in all areas of the revenue cycle.
Atlanta, GA (PRWEB) July 13, 2016
HomeTown Health, LLC awarded 2016 RISAH Accreditation to 6 hospitals at the conclusion of its 'Rev Up Your Revenue Cycle' program, a program provided through the SHIP Grant in cooperation with the State Office of Rural Health in Georgia and Florida.
The goal of Revenue Integrity Standards and Accreditation for Healthcare (RISAH) is to strengthen the revenue cycle knowledge base and practice of rural hospitals in an ever-changing reimbursement environment and to demonstrate commitment to continuous performance improvement by identifying best practice standards and methods of measurement. The primary goal of a Revenue Cycle Department is to safeguard revenue, while meeting or exceeding the cash goal, in a manner that increases patient satisfaction. The RISAH accreditation recognizes hospitals who are dedicated to creating an efficient, profitable and compliant hospital revenue cycle.
Six hospitals successfully met the requirements for 2016 accreditation:

Crisp Regional Hospital (Cordele, Georgia)
Doctors Memorial (Bonifay, Florida)
Madison County Memorial Hospital (Madison, Florida)
Union General Hospital (Blairsville, Georgia)
Upson Regional Hospital (Thomaston, Georgia)
Warm Springs Medical Center (Warm Springs, Georgia)
RISAH is an accreditation program focusing on the performance of the hospital revenue cycle. HomeTown Health provides annual assessments to monitor and measure the performance of hospital revenue cycle and ongoing internal benchmarking practices. Standard benchmarks are based on recognized best practice metrics and education is provided on performance, standards, monitoring and collecting data for surveys. A key to improving a hospitals' revenue cycle is evaluating processes and changing them, as needed, to improve overall performance. Performance improvement is a long term, ongoing process that changes and evolves as regulations increase and the healthcare environment changes. Utilizing the best practice standard measurements allows a hospital to identify areas with performance deficits. By identifying these areas through the monitoring of performance, an organization can affect change in areas that will increase revenue and cash flow.
"One of the key areas of successful revenue cycle management is the identification of measurable standards, the evaluation of current performance, the tracking of standard trends, and the continued increased benchmarking to elevate the performance of the revenue cycle team." says Sandy Sage, Revenue Cycle Consultant and Rev Up Your Revenue Cycle Project Lead. "The RISAH accreditation is a direct reflection of each hospital's commitment to improving performance in order to meet or exceed industry best practices in all areas of the revenue cycle."
Renee Bearden, Revenue Integrity Director at Crisp Regional Hospital in Cordele says, "Thanks to Home Town Health and the Rev Up Your Revenue Cycle Program, Crisp Regional Hospital has a truly integrated Revenue Integrity Team. Through the Best Practice Standards provided, Crisp Regional also has a compliant revenue cycle and realized gains to our bottom line. I am so grateful for the opportunity to have participated and for the team who achieved this 2016 Revenue Cycle Accreditation recognized as the industry standard."
For hospitals who have yet to qualify for RISAH Accreditation, HomeTown Health is holding open enrollment for the 2017 session for hospitals and healthcare systems wishing to obtain RISAH accreditation. Organizations that participate in the RISAH accreditation program will develop a hospital wide communication strategy that crosses both the financial and clinical departments to improve revenue cycle performance in all areas. Allowing staff to participate in improving processes and performance is intended to improve employee morale and foster loyalty among hospital staff.
"It is our hope that being a leader in revenue cycle improvement will allow an organization to demonstrate their value to health insurance plans when negotiating contracts and agreements that will provide better reimbursement." says Kristy Thomson, Director of Education, for HomeTown Health.
Another participating hospital team located in Bonifay, Florida was led by Donna Boroughs the Business Office Director at Doctors Memorial of Bonifay. "Doctors Memorial Hospital in Bonifay is grateful for the opportunity HomeTown Health gave us in offering the RevUp Revenue Program. We were able to identify specific areas in the Revenue Cycle needing improvement, set forth plans to improve, and we now continue to monitor the progress in our efforts to reach and exceed our goals. It is an honor to receive the RISAH accreditation, and we are thankful to HomeTown Health for their continued support of rural hospitals." she commented.
More information about the standards and participation guidelines can be found at http://www.hthu.net/risah.