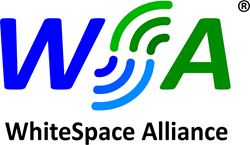 Chelmsford, MA (PRWEB) July 14, 2016
The WhiteSpace Alliance (WSA) ®, a global industry organization enabling sharing of underutilized spectrum, today announced that Cognitive Systems Corporation has joined the organization.
Cognitive Systems is a developer of custom silicon for high performance processing of radio signals from the edge to the cloud. Based in Waterloo, Canada, the company recently emerged from stealth mode to announce its platform for detecting, visualizing and responding to changes in wireless signals. Cognitive's technology has broad application in areas such as motion detection and physical security, device identification and cybersecurity, as well as spectrum monitoring and control.
"Our integrated, secure sensor-to-cloud architecture provides an efficient infrastructure for high resolution management of spectrum," said Dr. Nebu John Mathai, Director of Strategic Initiatives and Advanced Engineering at Cognitive Systems. "Leveraging WhiteSpace Alliance's interoperability specifications and working with other WSA members will help us address a broad range of deployment opportunities."
Cognitive's platform combines economical sensor technology with high performance signal processing at the edge, enabling cost-effective, large scale implementations. The multi-processor design supports secure processing throughout the vertical stack, as well as sophisticated back-end analytics.
"We are seeing significant moves toward spectrum usage measurements, opportunistic spectrum utilization and spectrum efficiency around the world," said Dr. Apurva N. Mody, Chairman of WhiteSpace Alliance. "Availability of flexible, powerful silicon solutions such as those from Cognitive Systems will help expand the intelligent use of spectrum to enable the Internet of Everything."
WhiteSpace Alliance, developer of Wi-FAR™ and WSAConnect™ interoperability specifications, has a following of more than 200 major commercial, academic, government and regulatory organizations around the world. WSA member organizations benefit from access to technical specifications that decrease development costs; expanded access to global markets, regulators and government agencies; and ongoing marketing support at no additional cost. Consumers benefit from a multi-vendor, interoperable ecosystem that brings down the overall cost of broadband access. For more information on WhiteSpace Alliance, please visit http://www.whitespacealliance.org
About WhiteSpace Alliance
The mission of the Whitespace Alliance (http://www.whitespacealliance.org/) is to promote the development, deployment and use of standards-based products and services as a means of providing broadband capabilities via WhiteSpace spectrum. By promoting the use of standards, the Alliance will enable companies to provide broadband connectivity at reasonable cost. The WSA will also act as an enabler of the emerging white spaces ecosystem by helping to put in place interoperability, conformance, and compliance testing to make sure that our member stakeholders get the needed information & collaborations to succeed both in the market place and with regulatory requirements. Interoperability specifications will allow multiple vendors to enter the market and help to reduce the costs for the consumers. WhiteSpace Alliance promotes the use of IEEE, 3GPP and IETF Standards for use in the WhiteSpaces.
About Cognitive Systems Corp.
Cognitive Systems Corp (http://www.cognitivesystems.com/) produces a vertically-integrated, cognitive radio sensor-actuator network stack. The solution is based on its custom silicon chipset that mates a high-bandwidth, multithreaded, parallel compute engine to a highly-flexible radio front-end. Offering RF situational awareness with unmatched economics and performance, CSC provides a disruptive solution to a variety of markets in the consumer, defense, and government spaces. Cognitive Systems Corp. is located in Waterloo, Ontario – the heart of Canada's Technology Triangle- and offers expertise in advanced mixed signal IC design, high-performance computer architecture, digital signal processing, wireless protocol stack development, software, cryptography, and network/cloud infrastructure.