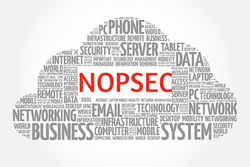 NopSec's Cloud Security Module helps information security professionals rapidly identify vulnerabilities & threats, accelerate risk prioritization, & automate remediation workflow.
New York, NY (PRWEB) July 14, 2016
NopSec, a leading provider of vulnerability risk management and remediation solutions, today unveiled Cloud Security Module to help organizations effectively manage and prioritize vulnerabilities in their cloud infrastructure. Integrated with its flagship product, Unified VRM, NopSec's Cloud Security Module is the first Open Vulnerability and Assessment Language (OVAL) aligned cloud vulnerability management platform available to fast growing IT organizations.
As many as 30% of small and medium enterprises expect to adopt cloud computing by 2017, according to a recent industry survey, organizations now face imminent security challenges to manage their cloud infrastructures. A recent report shows that the lack of resource and expertise in cybersecurity are the top concerns for organizations adopting the cloud computing model. NopSec addressed these challenges by leveraging its patented risk prioritization and threat prediction engines into its Cloud Security Module, and helping information security professionals rapidly identify vulnerabilities and threats, accelerate risk prioritization, and automate remediation workflow.
"Securing public cloud computing resources is becoming a challenging task. Organizations with cloud-based computing resources should establish solid vulnerability management practices to assess the security posture and compliance of cloud resources. NopSec makes it easy and actionable in few steps," says Michelangelo Sidagni, Co-Founder and CTO of NopSec. "Using a recognized and proven vulnerability assessment language such as OVAL is particularly important especially to assess such a diverse operating systems environment as those deployed in the cloud."
Key highlights of the new NopSec Cloud Security Module:
Automated Installation with No Maintenance Required-- 32% of IT Professionals cite lack of resources and expertise as the main challenge in managing cloud security. NopSec's Cloud Security Module is designed to keep installation easy, fast and require no ongoing maintenance.
OVAL-Compliant -- OVAL is widely used and trusted in the information security industry to address diverse cloud infrastructures.
Speed -- The NopSec Cloud Security Module boasts a speed of one minute per instance per scan.
Local -- The Cloud Security Module operates locally as an agent and does not transverse networks, eliminating the need for pre-authorization from the cloud providers, minimizing false security alarms, and saving organizations time and resources.
Threat and Social Context Enrichment -- The proprietary patented threat prediction engine contextualizes vulnerabilities with richer threat and social intelligence to improve risk prioritization and remediation.
"Maintaining compliance with organizational security policies continues to challenge many organizations and extends to cloud computing models," said Arnold Felberbaum, Strategic Advisor to NopSec, former CISO, and adjunct professor in Information Security at NYU Tandon School of Engineering. "We continue to struggle in our various cloud adoptions to ensure that we have good security practices. NopSec is bringing us closer with their Cloud Security Module. For those of us who deploy to cloud, we can now have a similar level of confidence with our vulnerability management practice."
NopSec empowers cloud security professionals with advanced toolset to dramatically streamline the cloud vulnerability detection, threat prioritization and remediation process, and significantly boost the effectiveness of vulnerability risk management program for organizations with constrained IT security expertise or resources. To schedule a personalized demo, click here.
About NopSec
NopSec offers cyber security and data risk analysis solutions through an intelligent cloud-based Software as a Service ("SaaS") platform. Its scanner-agnostic SaaS product, Unified Vulnerability Risk Management, allows IT security and risk professionals to prioritize vulnerability remediation with insight based on business risk and cyber threat context. NopSec has been recognized as one of the 20 Most Promising Enterprise Security Companies by CIO Review , an SC Magazine 2016 Trust Award Finalist, and named to CRN's list of Emerging Security Technology Vendors for four consecutive years. NopSec also offers penetration testing and adversarial simulation services. For more information, please visit http://www.nopsec.com. Follow us @Nopsec on Twitter