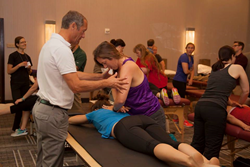 Minneapolis, MN (PRWEB) July 14, 2016
International Spine & Pain Institute (ISPI) held their fifth annual Clinical Conference, "Chronic Low Back Pain: What You See Is What You Get", June 24-26, 2016 at the Hilton Minneapolis in Bloomington, Minnesota.
The 3-day conference saw physical therapists, physical therapist assistants, occupational therapists, certified occupational therapist assistants, registered nurses, and doctors of osteopathic medicine attend seminars in treating chronic low back pain using hands-on, educational, and sensorimotor approaches.
Presentation topics throughout the course of the weekend included Assessing and Treating Fear of Movement, Chronic Pain: Why It Develops and How to Treat It, Physiotherapy, Psychosocial Assessment, Reasoning and Management, and Clinical Reasoning in Chronic LBP: Integrating Physical and Psychosocial Assessment and Management. Attendees were also treated to a Sunday morning fitness class.
Throughout the course of the weekend, 245 participants from 33 states and 5 countries learned the most cutting-edge techniques from experts in the physical therapy and pain management fields. This year's faculty included both national and international thought leaders in the profession, as well as respected faculty from across the country. Clinical Conference 2016 faculty and keynote speakers were:

Adriaan Louw, PT, PhD, CSMT, Conference Chair and ISPI Co-Founder
Jo Nijs, PT, PhD
Francis J. Keefe, PhD
Steven J. Linton, PhD
Mark Jones, BSc (Psych), PT, Grad Dip Advan Manip Ther, MAppSc
Louie Puentedura, PT, DPT, PhD, OCS, GDMT, CSMT, FAAOMPT
Timothy W. Flynn, PT, PhD, OCS, FAAOMPT
Steve Schmidt, PT, M.Phys, OCS, FAAOMPT
Kory Zimney, PT, DPT, CSMT
Mark Pirtle, PT, DPT
John Childs, PT, PhD, MBA, FAPTA
Megin Sabo John, PT, DPT, OCS, LMT
Tim Irving, DC, MS, LMT
Rasa Troup, MS, RD, CSSD, LD
Franz Macedo, DO
John Groves, PT, DPT
Ensor E. Transfeldt, MD
Mikki Townshend, PT, DPT, OCS
Janette Ahrndt, PT, MPT
Hollis E. Krug, MD
For more information on ISPI's 2016 Clinical Conference or to learn more about the 2017 Clinical Conference, "Neuroplasticity – Reshaping the Treatment of Pain", in Minneapolis, MN from June 9 – 11, 2017, please visit http://www.ispinstitute.com.
About International Spine & Pain Institute:
The International Spine and Pain Institute (ISPI) is a seminar company based in the United States of America which creates and implements cutting edge, high quality and research based education and resources for physical therapists related to spinal disorders, orthopaedics, and neuroscience. ISPI, which began in 1998, believes in creating a superior educational experience by using up to date research material and implementing it into clinical practice. ISPI achieves this by combining sound clinical reasoning, manual therapy, and neuroscience in order to educate and support physical therapists with real life clinical issues. This is achieved through weekend continuing education courses and evening lectures, a certification process, conference presentations and more. ISPI continually strives to promote, enhance, and energize the physical therapy profession. To learn more, please visit their website at http://www.ispinstitute.com. You can also find International Spine & Pain Institute on Facebook and Twitter, @ISPITeam.
###