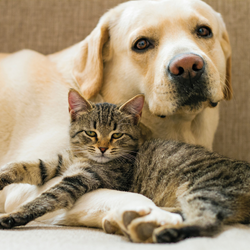 LINCOLN, R.I. (PRWEB) July 15, 2016
Summer means fun in the sun with family, friends and, for many, pets. But it's also fire season, and it's important to have a safety plan in place that includes those pets. That's why Amica Insurance is sharing tips for National Pet Fire Safety Day.
Amica suggests the following from the American Society for the Prevention of Cruelty to Animals:

Get a rescue alert sticker to let police and the fire department know that there are animals in the house in case no one is home when a fire starts.
In the event of an evacuation, contact the vet or local animal shelter to arrange for a safe haven if friends or relatives cannot take your pet. Do not leave pets behind.
Choose a designated caregiver, such as a neighbor, who can gain access to the pet while no one is home.
Prepare emergency supplies and travel kits in case you need to evacuate the home. Make sure everyone knows where they are, and that they are clearly labeled and easy to carry.
Make sure pets wear collars and tags with updated ID information.
About Amica Insurance
Amica Mutual Insurance Co., the nation's oldest mutual insurer of automobiles, was founded in 1907. The company, based in Lincoln, Rhode Island, is a national writer of auto, home, marine and umbrella insurance. Life coverage is available through Amica Life Insurance Company, a wholly owned subsidiary. Amica employs more than 3,400 people in 44 offices across the country. For more information, visit Amica.com.
Media inquiries can be sent to MediaCenter(at)amica(dot)com.
Twitter: Amica
Facebook: Amica Mutual Insurance Co.