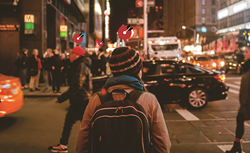 Engage your audiences with Target Points
Garden City, NY (PRWEB) July 15, 2016
Long Island based digital advertising agency Target Points is looking to expand their client base by bringing on a new Sales Director. Michael Drozdick is latest member of the Target Points team, bringing with him his 15 plus years of sales experience and a desire to assist in the development of small businesses throughout the Long Island and New York City area.
The hiring of a new Sales Director is just one of the many changes occurring as a result of Target Points' recent corporate restructuring. In addition to this, other adjustments coming down the pipeline are an expansion of the digital and sales teams, as well as an expanded office space. This will assist with the large influx of clients that Target Points has acquired over the past few weeks.
Michael Drozdick, recently working as the Director of Advertising Sales at a Long Island publishing company, has been immersed in the world of commerce since graduating from Hofstra University. Along with his years of experience and a master's degree from New Jersey City University, Target Points' new Sales Director is skilled in the building and maintaining of business relationships. Using his years as a regional manager of a merchant service company, Michael has utilized his expertise to gain insight on how to effectively assist with the development of new businesses.
Michael commented on his new role at the digital agency stating, "Seeing everything that Target Points has accomplished so far and what they have coming down the line, I am very excited to be playing such a pivotal role in their growth and expansion." He continued "During my time here, I am looking to use my experience in sales and apply it in a way that allows the Target Points brand to become a well-known and established name."
Target Points is only continuing to build their brand, recently releasing their set of eBooks for free on their website Targetpointsinc.com, as well as assisting users with developing their digital strategy through the use of their blog. In addition to this Target Points is rolling out their first email campaign, accurately conveying their services and how they can help small to medium sized businesses engage their audience.
Those looking to keep up with Target Points' news and company updates can also follow them on several social media channels including Facebook, Twitter, Instagram, and LinkedIn.
Target Points is a digital marketing agency dedicated to creating your brand's online presence through unique strategy, helping you expand your customer base and engage your audience.