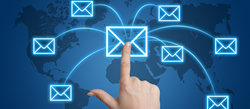 We make email simple
Garden City, NY (PRWEB) July 18, 2016
The first step in preventing spam from damaging your computer is being able to identify them. A majority of spam is sent by unrecognized senders with out-of-the ordinary email addresses. Keeping a look out for suspicious-looking emails can help prevent the spread of spam and harmful viruses. Users should also keep their eyes open for subject lines insinuating some sort of reward or celebration, for example "Congratulations" or "You won", especially if the user does not remember participating in any type of event.
One of the simplest ways to prevent receiving spam to is avoid giving out your email address as much as possible. While surfing the net, there is a lot of pressure for users to give up their email in exchange for offers and incentives. Even though they receive what they asked for, they eventually suffer in the end as their inboxes are bombarded with daily email, sometimes three to four times a day. The best to prevent this is to simply not give out your address. The fewer sites users sign up for, the less likely it is that they will get hit by barrage of spam.
The last tip softmailinc.com would like to offer is to report spam as often as possible. Most email accounts come with a filter to prevent spam from ever reaching users' inboxes. However, on the off-chance that some spam makes it through, users are encouraged to report it. Reporting spam helps improves automated filtering, making the task of spotting it less difficult.
Founder and President J. Ronald Nazaire commented on the importance of keeping email accounts spam -free stating, "On a daily basis, we as human beings are presented with tons of information and are tasked with distinguishing what's relevant and what isn't. To a certain extent our email accounts are an extension of this theory, with misinformation being a very harmful liability".
Additional information and resources can be found at http://www.softmailinc.com/blog or by calling 516-717-1434
We provide our online web based email marketing software to reach your target audience and build customer relationships. Email marketing is for every small business and should be part of the marketing mix. Softmail has a large database of opt in emails for you to select from, and to market to. We offer our easy to use Email Marketing Software as part of our small business marketing packages.