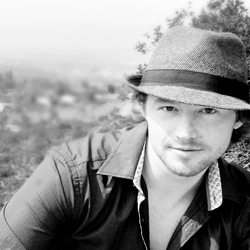 Dru Ross & 'Love Simulation' is set to become the late surprise hit of Summer
Los Angeles, CA (PRWEB) July 18, 2016
L.A. Hip Hop Artist Dru Ross announced the release of his new single "Love Simulation" to national radio this week. The single is being well received by radio in its opening week including 2nd "Most Added" AC40/National Radio Hits, AC40/New Music Weekly, and 4th "Most Added" AC40 by FMQB, (Friday Morning Quarterback).
The new single "Love Simulation" is an original song co-written with Producer Larry Weir. Dru collaborated with Weir and his brother Grammy Award winning Recording Engineer, Tom Weir at the iconic Studio City Sound. Dru recorded the single in L.A.'s famed recording studio where many of the music industry's finest – legends from Michael Jackson to the Ramones, have recorded.
Here is what the music industry is saying about "Love Simulation":
"Dru Ross & 'Love Simulation' is set to become the late surprise hit of Summer"
-New Music Weekly
"There is nothing not to like about it from an articulate vocal to a great mix!"
-Monica Smith, FMQB
"'Love Simulation' rides a classic funky groove that drives home its hooky R&B chorus"
-Music Connection
"This Hip-Hop Rocker has what it takes to become the very 'next Big thing'!"
-National Radio Hits
Dru Ross is a poet who transformed into an artist and songwriter in L.A.'s music scene much like another iconic artist who found fame on the Sunset Strip. Dru actually grew up far from L.A. in a small rural town in Washington State (Goldendale) listening to Marky Mark and the Funky Bunch, The Backstreet Boys, Usher, Justin Timberlake, DJ Jazzy Jeff and the Fresh Prince, Dr. Dre, Snoop Dogg, Jamie Foxx, Eminem and Ludacris. Dru has a musical ear that expands the universe – and the Dru Ross musical sound reflects a variety of creative influences. Many compare his hip-hop sound to Snoop Dogg. Dru gravitates to the positive movements in music – like Taylor Swift and Macklemore.
The new Dru Ross single, "Love Simulation" is now available on iTunes.
Weblinks: http://www.DruRoss.com / http://www.twitter.com/DruRossMusic / http://www.instagram.com/DruRossMusic / http://www.Facebook.com/DruRossMusic / https://soundcloud.com/drurossmusic
To arrange press interviews with Dru Ross, contact Publicist Liz Motley at LizMotley(at)me(dot)com.
###
Suggested Tweet:
NEWS: #HipHop artist @DruRossMusic releases #LoveSimulation to Radio – opening strong as 2nd Most Added Single - http://www.DruRoss.com