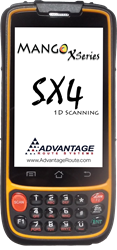 Our marketing research has revealed a big gap for users looking for a laser scanning mobile handheld device. The SX4 is a powerful, economical tool that meets that need.
Turlock, CA (PRWEB) August 17, 2016
Advantage Route Systems has just released the Mango SX4 - a new model in its family of durable handhelds. The Mango SX4 is an affordable, ruggedized handheld with an integrated laser scanner. It is used in route applications; warehousing/inventorycontrol and other demanding environments.
It is based on either a dual-core or quad-core processor running the Android Lollipop operating system. Various memory configurations are available up to 16GB. Communication methods include GPS, Bluetooth, Wi-Fi and GPRS. The base, dual-core unit has built in 3G capability and the quad-core Mango SX4x4 has 3G and 4G radios.
With either a 1D or 2D scanner, you can scan dozens of different barcode symbologies. The unit also comes with an optional RFID reader. This will do both low and high frequency RFID.
The Mango SX4 comes with an IP65 rating and will take a full 1.2 meter drop to concrete. It comes with both AC and DC charging for "charge and go" capability.
To obtain this new handheld, contact Inside Sales toll free at 888.294.7688 ext. 247 (international 1.209.632.1122). Also, for more information about this handheld, go to the company web site at: https://www.pda4usa.com/shop/mango-sx4/
Company Background
Advantage Route Systems, of Turlock, California, is a global supplier of route accounting systems to customers in over 40 countries around the world in over a dozen industries. Its scalable products feature a strong core of handheld and desktop technology. In business since 1994, ARS is a premier supplier of route accounting hardware and software.