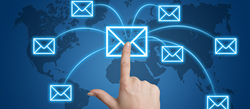 We make e-mail simple.
Garden City, NY (PRWEB) July 20, 2016
Softmailinc.com are experts in the field of email marketing, and feel as though a targeted email campaign is superior to an email blast for various reasons.
The first and biggest reason is the lack of segmenting email lists. Targeting products and services to those who would be most likely to buy those services is far more likely to yield in sales, and is far more efficient. Segmenting email lists by users who would be more likely to use a specific product, based on their demographics, geography or other factors is an excellent way to have a better return on investment than a non-targeted campaign. For example, a man in Miami is unlikely to purchase a woman's winter jacket, whereas a woman in Denver would be.
A second point against email blasts are the lack of custom messaging. Custom messages for emails are a great way to increase an open rate for an email, which is the first step to reaching whatever goal there was for the email campaign. Custom messaging is one of the best tools to not only avoiding the spam box, but also getting an email opened.
Another reason email campaigns are the best practice for email marketing is that permission has been obtained to contact these people with offers, promotions and news. Email blasts are often sent to "bought" email lists that often contain addresses that do not want to receive these emails. Not only is this considered illegal in certain circumstances, but it can also give a business a bad name in the process.
Lastly, email blasts are often rushed. Email blasts are seldom, and often not as well thought out as an email campaign that has a good plan behind it, therefore not always as effective. With return on investment being one of the most viewed metrics in an email campaign, not planning out an email marketing campaign is a sure way to have a low ROI.
"For those looking to target a specific market, email campaigns are certainly the way to go," said Founder and President J. Ronald Nazaire. "A well-targeted email campaign is far more accurate and direct than an email blast that usually has little aim but at times can come with a set of benefits."
Additional information and resources can be found at http://www.softmailinc.com/blog or by calling 516-717-1434
We provide our online web based email marketing software to reach your target audience and build customer relationships. Email marketing is for every small business and should be part of the marketing mix. Softmail has a large database of opt in emails for you to select from, and to market to.