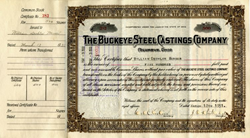 Old stock and bond certificates make a great gift for any occasion
Fairfax, Virginia (PRWEB) July 18, 2016
Scripophily.com®, the Internet's largest buyer and seller of collectible stock and bond certificates recently launched Stock Certificate Promotions website where businesses can buy discounted large quantities of old stock and bond certificates that can be used in promotional opportunities. "We continue to receive requests from businesses all over the world to buy interesting, low cost stock certificates for use in marketing campaigns" says Bob Kerstein , CEO Scripophily.com.
We are offering discounted minimum packs of 100 original authentic certificates include companies like Buckeye Steel Castings Company founded by the great grandfather of Jeb and George W. Bush, Camaguey Sugar Company of Cuba - Pre Revolution American Sugar Company, Irving Trust Company which became Bank of New York Mellon, New York Central Railroad Company with Cornelius Vanderbilt's image, the Penn Central Railway Company, Pennsylvania Railroad Company 3 1/8% Bond from 1945, Union Pacific Corporation, United States Radium Company from famous "Radium Girls" lawsuit and play and Pan American World Airways.
Scripophily (scrip-ah-fil-ly) is the name of the hobby of collecting vintage stock and bond certificates. Certificate values range from a few dollars to more than $500,000 for the most unique and rare items. Tens of thousands of Scripophily buyers worldwide include casual collectors, business executives, museums and the avid collector. Due to the computer age, more and more stock and bonds are issued electronically which means fewer paper certificates are being issued. As a result, demand for paper certificates is increasing while supply is decreasing.
Certificates are collected and given as gifts because of their historical significance, beauty and artwork, autographs, notoriety, as well as many other factors. Old Greek, Chinese, Confederate and Panama Canal bond certificates have always been popular items. In addition, scandals like Lehman Bros. and Enron, and stock certificates signed by John D. Rockefeller and other famous businessmen continue to be our top sellers.
Scripophily.com, the parent company of Old Company Research Service, acquired the old stock & bond business research service correspondence, archives and copyrights from Herzog & Co., Inc. (formally R.M. Smythe Old Stock Research Services). The acquisition included rights to all reference material published by the Marvyn Scudders Manuals, the Robert D. Fisher Manuals, and Herzog & Co., Inc. as well as all correspondence from the R.M. Smythe Special Library used in the Smythe's Obsolete Research activities which began in 1880.
Scripophily.com - The Gift of History has items on loan for display in the Smithsonian's Museum of Financial History in New York. Our company has been featured on CNBC, USA Today, Associated Press, Reuters, Nightline, Today Show, Baltimore Sun, and Washington Post and in many other media publications. The company also offers the World's #1 old stock research service at OldCompany.com and offers high resolution scans for publications. Scripophily.com has over 17,500 selections on its website.
Scripophily.com /Old Company Research Service, founding member of the Old Stock Exchange, is the successor company to all material published by the Marvyn Scudders Manuals, the Robert D. Fisher Manuals, R.M. Smythe Stock Research Service, and the Herzog & Co., Inc. obsolete research services.
Scripophily.com and Old Company Research Services was founded by Bob Kerstein (Bob.com). Bob is a CPA and CGMA, and has more than 40 years of senior management experience in the Cellular, Cable TV, Satellite, Internet, Professional Sports and Entertainment Industries. Bob is also the President of the Professional Scripophily Traders Association (PSTA) and co founder of the American Stock and Bond Collectors Association.
For more information on Scripophily.com®, visit http://www.scripophily.com, http://www.oldcompany.com, http://www.scripophily.net, http://www.rambo.com, http://www.bob.com or call 1-703-787-3552.
###