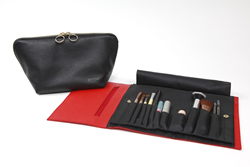 We set out to solve a problem for women who are fed up with makeup bags that don't work with their fast paced lifestyles
AUSTIN, TX (PRWEB) July 18, 2016
Kusshi's ingenious makeup bag has quickly become a hit on Kickstarter. Kusshi has raised more than $40,000 (and counting) thanks to consumers around the world who are thrilled to have a solution to the problem of exploded foundation bottles, crumbled eye shadow and bent or broken brushes.
Kusshi has reinvented the makeup bag to accommodate the modern, busy woman. At home or on the go, Kusshi solves everything that's wrong with current makeup bags. Ideal for travel, Kusshi keeps makeup protected and organized.
The bags are stylish and washable with compartments for all essentials including an eyelash curler shaped holder and compartments for wet or dry sponges. Kusshi also has zippered pockets for jewelry and lip balm and an organizer for brushes, pencils and lipsticks – along with a handy slot in the brush organizer to store a phone, charger, credit cards and ID.
"We set out to solve a problem for women who are fed up with makeup bags that don't work with their fast paced lifestyles," said Kusshi creator Jessica Parker. "The quick success of our campaign serves as a strong validation that we have created the best product for handling makeup for work, travel and at home."
Kusshi Features include:

Designed in conjunction with Master Tailor Sophie Alasti of Munich
Choice of fabric or leather, both with red lining
Color choices of external and internal pieces/compartments include:
Royal Blue, Black, Poppy Red, Cherry Red
Mix and match covers
Durable and versatile closures and high quality zippers
Bag flattens to show all makeup against a bright background
Washable – including a removable liner in the leather option
Pockets for wet and dry sponges and eyelash curlers
Brush, liner, and cosmetics organizers and holders for phone, cards, and ID
To pre-order and for early bird discounted prices please visit Kusshi's Kickstarter page.
About Kusshi:
Kusshi focuses on making life easier for sophisticated women who are always on the go. Our first product, the Kusshi Makeup Bag and Brush Organizing System, helps to protect and organize your brushes and makeup for everyday and on the go use. Following the success of our Makeup Bag we have additional travel products in the pipeline to be released in the coming months and years. For more information please visit http://kusshi.co/