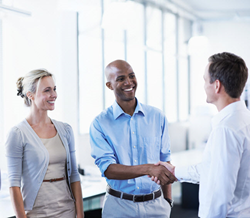 "Soft skills are difficult to define, because they mean different things to different people." -Michael Callans, VP of R&D, Wonderlic
Vernon Hills, IL (PRWEB) July 19, 2016
Recognizing the growing need for a flexible, relevant, and credible resource for educators, trainers, corporate developers, and hiring managers to improve individuals' soft skills, Wonderlic formed the Soft Skills Steering Committee to help design the Soft Skills Training Bootcamp that will foster soft skills training, evaluation, and credentialing capabilities.
This Bootcamp will be online, interactive, incorporate a variety of media, and include scenarios common to the daily workplace. When learners are ready to test their mastery, they will have the opportunity to earn Wonderlic-certified digital badges that prove to employers they have the soft skills competencies necessary to excel in the workplace.
Initially, the Soft Skills Steering Committee had to keep one important question at the forefront: "How will we identify or define the soft skills that should be measured?" With that goal in mind, the Steering Committee determined the soft skills must be (1) of major importance to employers when hiring for entry-level positions and (2) reflective of teachable/trainable skills. Ultimately, the Committee collected quantitative and qualitative data to identify ten soft skills that best met these two criteria.
This is no easy feat, according to Michael Callans, Vice President of Research & Development at Wonderlic. According to Callans, "Soft skills are difficult to define, because they mean different things to different people. They have been defined as people skills, emotional Intelligence and non-cognitive skills, just to name a few. And from these definitions, there is a myriad of lists of soft skill competencies."
The Steering Committee completed an in-depth survey as part of the process toward determining which soft skills fit the two main criteria mentioned above. The survey included questions such as: "Which soft skills are most important in the workplace, and how do you define those skills?" and "How does an individual's ability to master these soft skills affect your decision to hire and retain employees?" When results were analyzed, the Ten Essential Soft Skills that rose to the top of the list were:
1. Communication
2. Nonverbal & listening skills
3. Problem Solving
4. Professionalism
5. Cultural Competence
6. Interpersonal skills
7. Self-management
8. Initiative
9. Teamwork
10. Critical thinking
With the ten skills identified and clearly defined, the work to design learning experiences is underway. Over the next two months, students from selected institutions and organizations will have the opportunity to participate in pilot programs with the Soft Skills Bootcamp. Organizations interested in participating should contact Wonderlic for more information.
The Soft Skills Steering Committee is made up of three major constituent groups: 1) Employers and hiring managers representing small, medium, and large employers across major industries; 2) Post-secondary educators; and 3) Organizations and non-profit entities serving the higher education sector.
Committee Chair
Amanda Opperman, Senior Institutional Effectiveness Specialist, Wonderlic
Employers
1. Bill Campbell, President, Campbell Comfort Systems, Inc.
2. Willis Dane, Owner, Aqua Control
3. Marcy Depew, Master Career Strategist and Management Consultant, Teal-Noir LLC
4. Merri Dillinger, AVP, Associate Testing & Training, Adecco Staffing
5. Scott Ellsworth, 2013-2015 Director, National Skills Coalition and Business Leaders United
6. Don Fraser, Higher Ed ReDesigner, Education Design Lab
7. Sheila Golden, HR Director Wilkinson Real Estate Advisors, Inc.
8. Bruce Hohensee, President, Talent Driven Consulting
9. Dr. Jeffery Hollowell, Leadership Coach, Applied Executive Coaching, LLC
10. Andre L. Johnson, Corporate Trainer & Center Manager, Workforce Solutions for Tarrant County
11. Diane Jones, Senior Vice President and Chief External Affairs Officer, AJsquared Consulting; Former Assistant Secretary of Postsecondary Education, US Dept. of Ed.
12. Russ Merwin, Director of Training, Ryan Lawn and Tree
13. Pauline Owens, Accounting Manager, Showmen Supplies
14. Monnica Seyfang, HR Manager, Riffle Machine Works
15. Jennifer Shahan, State Director, Telamon MD
16. Nathan Singer, HR Generalist, Amarillo Reinforcements Plant
17. Trevor Stokes, Manager of Workforce Programs, Arizona Commerce Authority
18. Jackie Thornton, HR Director, Triton Management Group
19. Jo Lynne Varner, Administrator, Little Rock Pediatric
20. Heather Wood, Hospital Account Executive, Ecolab
Educators
21. Bob Gee, Founder & Trustee, American Meridian University
22. Nancy Jones, National Director of Graduate Placement, Concorde College
23. Jennifer Lasater, Vice President, Employer & Career Services, Kaplan University
24. Pat Lee, Placement Director, Vet Tech Institute
25. Christy Torkildson, Chief Academic Officer, Unitek College
26. Claudia Turner, Instructor, A.D. Nursing, Temple Junior College
27. Cory Werkheiser, Career Services Specialist, Patrick Henry Community College
Organizations
28. SJ Barakony, Founder & CEO, Service Before Self Leadership
29. Kathleen deLaski, Founder, Education Design Lab
30. Tracy Petrillo, Chief Learning Officer, Educause
In addition to the companies represented on this Committee, more than 100 other employers are contributing to this effort.
To join the Committee's effort to improve the skills gap, or to learn more about the learning and educational objectives for the Soft Skills Training Bootcamp, contact Wonderlic.
About Wonderlic
Wonderlic, Inc. is a privately held company headquartered in Vernon Hills, IL and a founding member of the Association of Test Publishers. The company provides businesses and schools with a comprehensive library of highly regarded assessments and surveys for each phase of the hiring and student selection process. In its 75+ year history, Wonderlic has delivered over 300 million assessments and surveys to more than 60,000 organizations, government agencies, and accrediting bodies. http://www.wonderlic.com