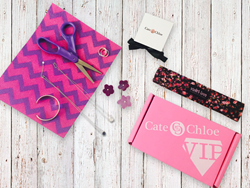 San Francisco, CA (PRWEB) July 19, 2016
Cate & Chloe jewelry believes that jewelry should be made with love. That's why they've partnered with LA based fashion designer Rebecca Michaels of Violet Love for their upcoming August jewelry box.
In each VIP box, you can pair your jewelry looks with a bold and stylish "no slip, no headache" headband that's trusted yoga studios and seen on the streets of LA and is the accessory everyone's talking about.
Cate & Chloe VIP provides jewelry boxes tailored to your personal style and preferences for as low as 19.99 a month. Their monthly subscription service has been featured on the Today show, The View, The Talk and The Real.