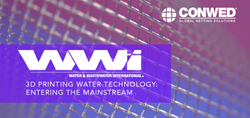 Minneapolis, Minnesota (PRWEB) July 20, 2016
Conwed, the leading plastic netting manufacturer in the world, is featured in the latest issue of Water & Wastewater International Magazine (WWI). Conwed 3D printed feed spacers are highlighted in the water technology section - editorial titled, 3D Printed Water Technology: Entering the Mainstream. According to WWI Magazine, in recent years, a number of companies have begun to investigate the potential of using 3D printed parts and components in water treatment and filtration technology and the story covers some of the water treatment applications that have already started using 3D technology to lead innovation.
Conwed manufactures a full line of feed spacers for reverse osmosis (RO) wound elements. The RO process involves pressure application of dissolved species water solution against a float sheet semipermeable membrane. The water passes through the membrane as permeate. All particulate species and majority of dissolved ions existent in the feed water, are rejected and flushed out to the drain as a concentrate stream. In order to function as a desalination device, the flat sheet membrane is configured as a spiral wound membrane element. The membrane element structure contains also a feed spacer that separates the surfaces of adjacent membrane envelopes. The feed spacer, also known as scrim, mesh, net or netting keeps the feed channel open, allowing feed water to flow inside the feed channels, along the membrane element. The objective of the feed spacer, in addition to keeping the feed channel open, is to promote turbulence of the feed stream.
"Conwed is pushing the limits of feed spacer technology and experimenting with new alternatives to test and potentially predict how feed spacers will perform in assembled RO wound elements, but 3D printing technology is only a fraction of our innovation efforts. Overall, 3D printing has helped us speed up the development process exponentially", said Ivan Soltero, senior strategic marketing manager at Conwed.
In a world concerned about water scarcity, water treatment technologies become extremely important. Reverse Osmosis accounts for more than half of the desalination capacity installed worldwide and continues to play an important role in securing water supply for human consumption. The International Water Management Institute, a non-profit scientific research organization that focuses on sustainable water use in developing countries, estimates that by 2025 nearly 1 billion people will lack access to fresh, drinkable water.
"Our team understands the relevance of our role in water treatment technologies. In reverse osmosis, optimal feed spacer design helps tackle the top three challenges in every water treatment system: pressure drop, membrane damage and bio-fouling. So exploring new technologies such as 3D printing is part of our global efforts to create next-generation feed spacer solutions", said Soltero.
Water & Wastewater International Magazine dedicated its June 2016 front cover to 3D printing technology applications and contacted Conwed after finding the efforts made in 3D printed feed spacers for reverse osmosis systems. "We are glad to collaborate and share with their audience our experience using 3D printing technology for water treatment applications. It has been a great tool to test, approve or reject new feed spacer ideas rapidly, without engaging our production lines too early and incurring in additional development costs", said Soltero.
To access the entire editorial piece – 3D Printed Water Technology: Entering the Mainstream, click here.
About CONWED
Conwed is the leading plastic netting manufacturer in the world. Conwed manufactures extruded, oriented and knitted netting with unique customization capabilities. Headquartered in Minneapolis, Minnesota, Conwed has five manufacturing locations on two continents and a global distribution network.