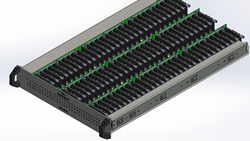 Today marks a giant leap forward in saving the environment and handing our kids a safer healthier planet - Michael Arnouse, CEO of ADDC
Lake Success, NY (PRWEB) July 21, 2016
Arnouse Digital Device, Cor p (ADDC) announced the SR-90 the densest hyper-converged server ever created and proudly made in the USA.
The ADDC SR-90, a 2U standard shelf unit, holds 90 physical server nodes with complete networking and storage creating a hyper-converged solution able to serve a wide variety of server needs. Utilizing the ground breaking BioDigitalPC9 Server Card, a credit card sized, pluggable x86 computer, the SR-90 includes 360 x86 cores, 720GB memory and 11.5 TB storage. The SR-90 is networked together with 18 10Gb interconnects to the data center network fabric. Additionally, each server is hot swap-able allowing for expansion and elastic growth within this 2U drawer and beyond.
The SR-90 is the realization of a patent, issued to ADDC by the United States Patent and Trademark Office in 2014, which protects this revolutionary server design. The protected design, which handles up to 3000 server nodes in one standard data center rack, requires no chilled air. This eclipses other dense server systems by size, density, power efficiency and minimal cooling requirements.
The SR-90 also advances the environmentally friendly nature of the BioDigitalPC ecosystem by expanding the ambient working temperature of a server system to a maximum of 140F thereby reducing the need for cooling to near zero. Today's data center infrastructure may use 60% of its power draw to cool and maintain infrastructure requirements. With the SR-90, energy used to maintain cooling and infrastructure is merely 2% of its total energy usage. Its projected PUE, a key number indicating the environmental friendliness of a datacenter, approaches zero compared to traditional datacenter PUE rating of 1.2.
The environmental and cost savings created by a full rack of SR-90s is excellent. The carbon footprint of a similar sized rack system is reduced by 1,000 tons of CO2 daily and the energy saving realized by the SR-90 equates to nearly $27,000 per month and huge sums on refreshments. This is the equivalent of removing CO2 generating activities like driving 2.5 million miles in a car or burning 1.1 million pounds of coal. Conversely, not generating this amount of CO2 is the same as planting 27,000 trees.
"The SR-90 is the culmination of many years of innovation and hard work by the engineers and staff at ADDC and we are very proud of this accomplishment," said Michael Arnouse, CEO and Chairman of ADDC. "Today marks a giant leap forward in saving the environment and handing our kids a safer healthier planet without taking away the progress we have made."
For more information about the BioDigitalPC, SR-90 and other ADDC products please visit http://www.ADDC.net or call 516-673-4444.
Arnouse Digital Devices Corporation (ADDC) was founded in 2002 by Michael Arnouse to create a new, revolutionary, interchangeable compute platform which gives users an unprecedented level of flexibility, compute power, small size, low power use and ultra-high security. ADDC invented a credit card sized pluggable computing card, called the BioDigitalPC®, named for its rugged eco-friendliness. While inventing the BioDigitalPC®, ADDC realized this form factor could revolution the size requirements for just about any environment requiring x86 computing. Currently, ADDC includes four locations throughout the east and west coasts, as well as representation in over 57 countries. ADDC has been granted seventeen utility patents, with 3 pending in the areas of pluggable computing and the surrounding ecosystem. ADDC is fully committed to provide the world's best computing solutions for traditional and harsh environments that enable people, government and businesses to excel in productivity and abilities. The BioDigitalPC platform represents the highest attainable level of environmental consciousness and responsibility while maintaining cutting edge capabilities and extraordinary return on investment for all users. ADDC products are proudly "Made in the USA".
Contact: Dan Gallic, 516-673-4444