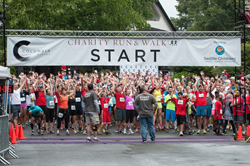 "Every year, I am humbled by all those who dedicate themselves to supporting Seattle Children's Hospital through the Columbia Winery Run & Walk," said Columbia Winery winemaker Sean Hails
WOODINVILLE, Wash. (PRWEB) July 19, 2016
Now in its 10th consecutive year, the Columbia Winery Charity Run & Walk will be held at Columbia Winery on Saturday August 20, 2016.The 10K Run, 5K Run/Walk and Kids Dash is expected to bring together more than 1,400 runners and walkers to Woodinville Wine Country to raise money for uncompensated care at Seattle Children's Hospital.
Seattle Children's Hospital is committed to providing excellent pediatric care for all children regardless of their family's financial situation. It is estimated that the need for uncompensated care funding will exceed $120 million in 2016. Of the more than 100,000 patients treated at Children's each year, 65 percent need financial assistance.
"Raising funds for uncompensated care is critical in helping ensure that all children, regardless of their family's ability to pay, have access to the world-class care at Seattle Children's Hospital," said Aileen Kelly, Executive Director of the Seattle Children's Hospital Guild Association. "Because of the generous support of Columbia Winery and the contributions from the thousands of participants over the last 11 years of this annual event, we are able to help meet this ever-growing need. I am continually honored and inspired by the support our community shows for the patients of Seattle Children's Hospital."
The Columbia Winery Charity Run & Walk has been a cornerstone piece of the 29th Annual Auction of Washington Wines for more than a decade. Taking place over four days, the Auction of Washington Wines is dedicated to promoting Washington State wine while hosting the Northwest region's most prestigious charity wine event. The weekend culminates with The Winemaker Gala grand finale event on Saturday night.
The Columbia Winery Charity Run & Walk is organized by the Run for Children's Guild and is supported by KING 5, a local broadcast media company and NBC affiliate, to provide financial support for uncompensated care at Seattle Children's Hospital.
Throughout their participation, the Columbia Winery has helped generate more than $800,000 to benefit Seattle Children's Hospital, and has a goal of raising an additional $100,000 in 2016. In addition to hosting the Columbia Winery Charity Run & Walk, Columbia Winery will also donate $4 per case (up to $35,000) of wine sold in Oregon and Washington from July 1 through August 31 to support uncompensated care.
"Every year, I am humbled by all those who dedicate themselves to supporting Seattle Children's Hospital through the Columbia Winery Run & Walk," said Columbia Winery winemaker Sean Hails. "For this event to be successful, we know we've inspired our community to devote their time and talent to this important cause. I look forward to congratulating all the participants, their families and their supporters at the finish line or as they celebrate with us at the winery afterward."
The race begins and ends at Columbia Winery, with a route traveling through the heart of Woodinville Wine Country. Afterward, all are invited to enjoy live music and delicious food specially prepared for the event. Additionally, participants who present their race number are invited to enjoy discounts at the tasting room.
About Columbia Winery
For more than 50 years, Columbia Winery has embraced a progressive winemaking philosophy that has led to new grape varieties, vineyards and blends. Today, Winemaker Sean Hails continues this innovation, handcrafting an award-winning collection of Washington State wines from grapes grown on southwest-facing slopes in the Columbia Valley. At the height of the growing season, the sun shines for up to 16 hours per day. This intense sunlight, coupled with only up to 12 inches of rain annually, translates to deeply concentrated color, flavor and structure in the glass. Located in the heart of Woodinville, the Columbia tasting room offers daily tastings in a rustic, yet elegant, setting.
http://www.columbiawinery.com | http://www.facebook.com/columbiawinery
About Seattle Children's Hospital
Consistently ranked as one of the best children's hospitals in the country by U.S. News & World Report, Children's serves as the pediatric and adolescent academic medical referral center for the largest landmass of any children's hospital in the country (Washington, Alaska, Montana and Idaho). For more than 100 years, Children's has been delivering superior patient care and advancing new treatments through pediatric research. Children's serves as the primary teaching, clinical and research site for the Department of Pediatrics at the University of Washington School of Medicine. The hospital works in partnership with Seattle Children's Research Institute and Seattle Children's Hospital Foundation. Together they are Seattle Children's, known for setting new standards in superior patient care for more than 100 years.
http://www.seattlechildrens.org