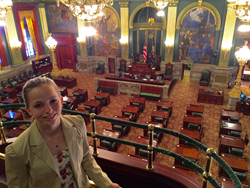 "Summer internships are significant to students' progression in their career pathways," said Mark Zerbe, MHS Coordinator of Student Work Programs.
HERSHEY, Pa. (PRWEB) July 20, 2016
Milton Hershey School rising seniors have the opportunity to participate in an extensive summer internship program as part of the school's Career and Technical Education (CTE) program. Throughout the CTE program, students must choose from 11 career pathways and take specialized courses to prepare for college and the workforce. To build on their classroom knowledge, students can complete a professional internship during the summer.
"Summer internships are significant to students' progression in their career pathways," said Mark Zerbe, MHS Coordinator of Student Work Programs. "Students develop a deep understanding of the workplace environment and learn the steps they must take to be successful in a given field."
MHS partners with local organizations to provide enriching internships in various industries. Approximately 80 students are interning at businesses across Central Pennsylvania, including the Governor's Office, camping resorts, hotels, district attorney's offices, healthcare clinics, restaurants, colleges, marketing companies and animal hospitals.
"Local businesses and community partners have been exceptional at mentoring MHS students and teaching them new skills," said Zerbe. "After students complete a summer internship, they are extremely motivated and excited about their future."
All MHS students earned industry-recognized certifications in the last two years through the school's CTE Program, which allows them to begin summer internships with tangible skillsets. Through supportive mentoring relationships, interns gain additional skills in time management, communication, public speaking, and teamwork. This insight into the professional world helps students solidify their career goals, envision a future working environment, and gain the life skills needed to lead a fulfilling and productive life.
"MHS has definitely prepared me for this internship in more ways than I can imagine, from surrounding me with people who encourage me to making me more mature and independent," said rising senior Gabrial Elliott-Brault who interned at the Pennsylvania Governor's Office this summer.
After completing summer internships, MHS seniors continue receiving in-depth training in their respective fields. The school's Cooperative Education program allows seniors to work in their chosen career path for a half day each day of the week and pursue additional career certifications.
MHS also partners with more than 60 colleges and universities, and several schools offer dual enrollment opportunities. In the Class of 2016, 14 students completed the Temple University program and graduated from MHS with 15 college credits.
More information about Milton Hershey School's internship opportunities and CTE program can be found at mhskids.org.
# # #
ABOUT MILTON HERSHEY SCHOOL
Milton Hershey School® is one of the world's best private schools, offering a top-notch education and positive home life to children in pre-kindergarten through 12th grade from families of lower income at no charge.