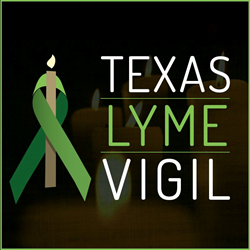 Since Lyme disease is being contracted at an alarming rate in Texas, we want to honor all of those who have suffered from Lyme and TBD, especially those who have passed away. Texas is overdue for Lyme reform to help prevent some of this from happening.
Dallas, Texas (PRWEB) July 22, 2016
On Sunday, August 14th, Lyme disease patients and supporters will hold a candlelight vigil at Klyde Warren Park to help spread Lyme disease awareness, and to honor all of those who have suffered or lost a loved one as a result of Lyme disease and/or tick-borne illnesses in the state of Texas.
The Texas Tick-borne Diseases Group and the North Texas Lyme Support Group have organized this event to let the public know that Lyme disease is indeed in Texas, and that it is very prevalent. Lyme disease sufferers want you to know what signs and symptoms to look for in order to get a proper Lyme diagnosis, and that there are groups here in Texas that will help guide the way.
In addition, those afflicted with Lyme and tick-borne diseases are calling upon the news stations and media to do a segment on the Texas Lyme Petition, which is currently gaining traction on change.org. Their goal is to push reform in regards to Lyme disease in the state of Texas. A key concern of Lyme disease sufferers in Texas is the refusal of the Texas Medical Board (TMB) to acknowledge the existence of chronic Lyme disease. Lyme patients need the TMB to update its Lyme guidelines and require updated Lyme CME (Continuing Medical Education) trainings to reflect the fact that many patients require longer-term treatment beyond the limit of 4 to 8 weeks of antibiotics specified by the IDSA. Due to the inaccurate Lyme guidelines in Texas, it has led to thousands of people in Texas being misdiagnosed and/or undiagnosed each year. In addition, this has led to a number of Lyme related deaths. For the Lyme patients receiving proper Lyme diagnosis, Lyme patients continue to be denied treatment by doctors and insurance coverage for treatment.
"I had no idea just how many Texans were suffering from Lyme disease, being misdiagnosed, or desperate for quality care until I became an admin for a Lyme support group. I hear about new cases every single day, and these people don't know what to do to help treat themselves and/or their children," says Julie Anderson, an admin of the Texas Lyme And Tick-borne Diseases Group. "They simply have very few options, whether they are financially able to treat or not. We seriously need to move past the old train of thought that 'there is no Lyme in Texas' and start educating doctors to properly diagnose and treat Lyme and TBD patients. You know things are really bad when Lyme patients are denied treatment almost 99% of the time they visit an infectious disease doctor."
"With over 700 peer-reviewed studies proving that Lyme and tick-borne disease can survive in the body to become a chronic and persistent infection after the recommended Infectious Disease Society of America (IDSA) dose of antibiotics, it's really disheartening that our Texas Medical Board has not protected Lyme sufferers by updating their Lyme definitions and guidelines allowing for long-term treatment," Says Martha Boykin, the founder of the North Texas Lyme Support Group. "We need accurate Lyme continuing medical education (CME) courses for all physicians in the state of Texas so patients do not spend their life in pain and with a debilitating chronic illness."
The vigil will take place from 8:00 - 9:00PM on the Pearl Lawn of Klyde Warren Park in downtown at 2012 Woodall Rodgers Freeway, Dallas, TX 75201.
Music will be provided by Tammy Swofford and the Kopy Kats followed by a speech, prayer, and candlelight ceremony. Lyme Disease Challenge photos will be taken in front of the infamous Tick Slayer jeep, owned by Becky Summers, before and after the event. The Bank of America Plaza building will be lit up green in honor of Lyme disease sufferers. Lyme Ninja Radio will be covering the event to help spread Lyme awareness in Texas. Mark Laster photography and Martha Boykin Photography will be capturing the event for a slideshow and possible video.
For details visit:
https://www.eventbrite.com/e/texas-lyme-vigil-event-the-texas-lyme-community-needs-you-there-tickets-26271856831
Like us on facebook:
https://www.facebook.com/TexasLymeVigil/
https://www.facebook.com/TexasLymePetition/
https://www.facebook.com/NTXLymeSupport/
North Texas Lyme Support Group
http://www.ntxlyme.org/
Texas Lyme Petition:
http://www.ntxlyme.org/
Lisa Todd
LymeInTexas(at)gmail(dot)com
817-999-2447
Hashtags:
#TexasLymeVigil
#TexasLymeVigil2016
#LymeInTexas
#LymeDiseaseAwareness
#LymeReformInTexas