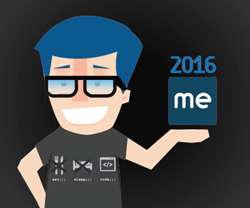 "MyEclipse 2016 is the first major step forward to providing a Full-Stack Eclipse IDE," said Tim Webb, VP of Operations.
FLOWER MOUND, TEXAS (PRWEB) July 21, 2016
MyEclipse 2016 Stable 1.0 from Genuitec is the first enterprise-quality release of the 2016 stream. With this release, Genuitec widens technology and productivity possibilities with the integration of new and important features like JSjet. JSjet understands JavaScript code taking the normally dull JavaScript experience in Eclipse and making it shine in MyEclipse. With Syntax Highlighting, Call Hierarchy, ES6 support and more, JSjet significantly improves JavaScript coding inside the IDE.
"MyEclipse 2016 Stable 1.0​ is packed with new features that makes it a great IDE for today's Java EE developer expanding into the modern web. Stable 1.0 is the culmination of months of iterative feedback-driven development of features like CodeLive and JSjet, making a robust, and dependable, development platform," said Brian Fernandes, MyEclipse Product Manager.
To further increase productivity, this Stable release of MyEclipse introduces Live Preview with CodeLive. Live Preview, allows developers to instantly view changes in their HTML and CSS across browsers as they are typing inside their editor. Developers can easily experiment with changes getting those finicky changes just right across Firefox, Chrome, Edge, Safari and more. Better yet, inside the browser, users can see which source files provided the page and jump back into editing the file seamlessly.
"MyEclipse 2016 is the first major step forward to providing a Full-Stack Eclipse IDE," said Tim Webb, VP of Operations. "The introduction of JSjet and CodeLive mark a key recognition in the need for enterprise developers to have ready access to not only great Java EE support, but rich web technologies."
Another improvement web developers will love is the ability to use Source Maps when debugging JavaScript. Source Maps allow users to step through and debug against original source code during a debug session. MyEclipse JavaScript debugger loads the maps in runtime scripts and uses them to reference the original source for a friendlier debugging experience.
2016 Stable also includes features aimed toward teamwork productivity, like Eclipse Code Sharing for Slack that allows users to share code with teammates right from within the IDE. When there is a doubt in that bit of code, now simply share and discuss all inside Slack.
This release includes updates to popular tooling such as STS, m2e, BIRT, Webtools, & eGit. As additional information, MyEclipse ships with, and runs on Java 8.
These amazing additions and more are available with the new MyEclipse 2016 Stable 1.0. Learn more and purchase at: https://www.genuitec.com/products/myeclipse/download/
About Genuitec:
Started in 1997 and counting over 16,000 companies in 191 countries as customers, Genuitec is a leader in the Eclipse open source community. As a founding member of the Eclipse Foundation, Genuitec has actively participated in strategy, development, and direction for the organization.
Today, Genuitec supports one of the largest developer communities for commercial Eclipse tools. Customers benefit from Genuitec's ongoing commitment to open standards and to the continual enhancement of the MyEclipse, Secure Delivery Center, Webclipse and GapDebug product families with unique innovations and low subscription pricing.
Contact Genuitec today to learn more: https://www.genuitec.com/company/contact
Follow them on Twitter: @Genuitec @MyEclipseIDE