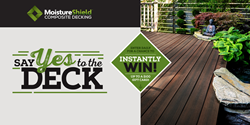 Springdale, AR (PRWEB) July 20, 2016
MoistureShield's "Say Yes to the Deck" promotion is building excitement with homeowners and contractors throughout the 2016 summer months. To thank their customers for continually showing their deck creativity in composite decking designs and applications, MoistureShield is launching a 3-part social media promotion that will allow homeowners and deck builders to win various gift cards up to $500 in value.
Hopeful contestants can participate in the instant win promotion on Facebook from July 20 to August 2, 2016 and the Pin It to Win It promotion on Pinterest starting in August. Contractors can also submit a review of their experience with MoistureShield products at http://www.moistureshield.com for additional chances to win starting in mid-September.
"We love seeing the innovative and creative outdoor spaces that our fans are building," said Brent Gwatney, Senior Vice President of Sales and Marketing for MoistureShield. "We have such a great audience across all of our social media channels and the #SayYesToTheDeck campaign is our way of giving back to those fans for their continued support."
The Facebook portion of the promotion will consist of an instant win sweepstakes that will run through August 2, 2016 and allow contestants to find out instantly if they've #SaidYesToTheDeck, potentially winning up to $100 gift card. Multiple winners will be announced each week and contestants can enter once per day.
Starting August 8, 2016 contestants will also be able to #SayYesToTheDeck by selecting the creative MoistureShield deck designs they like the most and pinning it to one of their boards to be entered to win a $250 Crate and Barrel gift card. They will receive one entry for every pin and can get 5 extra entries for sharing the promotion.
Finally, beginning September 19th, 2016 contractors can provide their reviews of how they've #SaidYesToTheDeck on MoistureShield.com to be entered to win a $500 Cabela's gift card. Each review will be considered an entry and they can gain 5 extra entries by sharing a photo of their project.
All sweepstakes are open to residents of the US and Canada. All winners will be randomly selected. For official rules and details please visit: http://www.moistureshield.com/rules.
MoistureShield composite decking is the only composite tough enough to be installed on the ground, in the ground or underwater while still being protected by the industry's leading lifetime residential warranty. MoistureShield's family of outdoor living products offers the right options to fit every backyard. Homeowners can choose from several high-performance composite decking and railing lines, as well as complete their deck design with MoistureShield Deck Lights, MoistureShield Deck Clips and Pro Aluminum Railing. Built to be tough, yet beautiful, all MoistureShield products inspire carefree living while making a statement.
For more information on MoistureShield products, visit moistureshield.com. Follow MoistureShield on popular social networks for deck design inspiration and outdoor living ideas.
About Advanced Environmental Recycling Technologies (A.E.R.T.):
Advanced Environmental Recycling Technologies, Inc., (A.E.R.T.) trades on the OTCQB venture stage marketplace for early stage and developing U.S. and international companies. The development of new technologies and patents has enabled it to manufacture superior composite products from recycled wood fiber and recycled polyethylene plastic for the building and construction markets. A.E.R.T. is the exclusive manufacturer of MoistureShield® composite decking and outdoor living accessories. Investors can find Real-Time quotes and market information for AERT on http://www.otcmarkets.com. Details about MoistureShield products can be found at http://www.moistureshield.com.