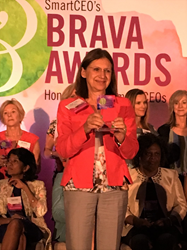 Unanet believes in an interconnectedness with the community around us, and we work to support and create strong relationships with organizations that are devoted to positive change
Dulles, Virginia (PRWEB) July 21, 2016
The SmartCEO Brava Awards Program is designed to honor women in large cities across the U.S. who exhibit exceptional leadership qualities. These women are either an Executive Director of a Nonprofit, a C-suite executive, or a CEO. Those who receive the award are irrepressible in their entrepreneurial spirit, have a passion for giving back to the community, and are exemplary leaders within their companies and communities. Local business leaders convene to determine each year's winners based on these criteria along with their company growth and mentoring efforts.
Fran's strong connection with the Loudoun area and dedication to many philanthropic efforts earned her a Brava Award. She commits her time to not only creating a wonderful and thriving community in Unanet, but in the surrounding county, as well, specifically in the areas of STEM and women in business. Additionally, Fran mentors and speaks on entrepreneurship, women in technology, starting and operating small businesses, project management effectiveness, and how business management software can transform competitiveness. Not only does Fran promote these causes and dedicate time to these efforts, but she has created the same standard for community care in Unanet, as well.
"Unanet believes in an interconnectedness with the community around us, and we work to support and create strong relationships with organizations that are devoted to positive change," says Craig. "In this spirit, all employees have 16 hours annually to dedicate to a charity of their choice."
Unanet would also like to congratulate our customers who were honored with a Brava Award: Denise Garcia Van Wyngaardt of Indigo IT, Amy Wright of Macro Solutions, Amina Elgouacem of NEOSTEK, Inc., and Lisa Alferieff of TCG.
Please visit https://www.smartceo.com/2016-washington-brava-fran-craig/ to learn more about Fran Craig and the SmartCEO Brava Awards Program.
About Unanet:
Unanet is a leading provider of Cloud and On-Premise software for project-based organizations. Unanet delivers a purpose-built Project ERP solution with skills management, resource planning, budgeting & forecasting, time & expense reporting, billing & revenue recognition, project management analytics and dashboards, and integrated financials with AR, AP, GL and cost pool calculations. Over 1,000 organizations trust Unanet to maximize staff utilization, reduce administrative costs by 90%, improve invoicing by 10X, and support forward decision-making for improved operations.