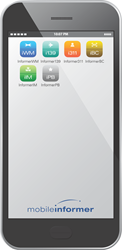 Mobile Informer is the only mobile platform for Maximo that can claim 100% user success.
Folsom, California (PRWEB) July 21, 2016
Interloc Solutions, a Gold technically accredited, IBM Premier Business Partner announced today the addition of two IBM Maximo mobile apps available in the Apple App Store.
These mobile apps for IBM Maximo run on Interloc's Mobile Informer platform and provide a fast path for taking Maximo mobile.
InformerWM is a role-based Work Management mobile app that simplifies work management. No longer do field workers need to know or log onto Maximo. InformerWM provides easy to use, easy to navigate screens that enable field workers to gain back productivity.
InformerBC is a role-based Bin Counting mobile app that makes Inventory Counting fast and easy. InformerBC provides a simple way to get accurate and real-time counts, helping you to manage costs.
Because both apps are built on the Mobile Informer platform, they provide:

Heightened security features, including multi-factor authentication
Access to native device function
Seamless offline-online capabilities
Use of existing Maximo infrastructure (no new server hardware)
Exceptional user experience and performance
Both apps are downloadable for free and are available today. Future apps to be added to the App Store include:
Informer311: A self-service requestor app that puts the power of engagement in your community's hand.
Informer139: The first vertically integrated solution from Maximo through to the mobile device, built from the ground up specifically for CFR Part 139 inspections.
"Interloc developed these apps to address specific needs of Maximo clients, while providing the greatest productivity to the business," said Mike Watson, President and CEO, Interloc Solutions. "Mobile Informer is the only mobile platform for Maximo that can claim 100% user success."
To learn more about the Interloc Mobile Informer and the Mobile Informer apps, please visit mobileinformer.com.
About Interloc Solutions
Interloc is 100% dedicated to helping you realize the greatest potential from your Maximo investment, with award winning consulting services and innovative mobile solutions. We are passionate about putting our IBM Gold technical accreditation to work for you to get the results you need for your business. Interloc Consultants have hundreds of years of combined Maximo experience and will harness that to meet your industry requirements providing comprehensive, reliable enterprise asset and service management solutions. Over the years, Interloc has earned accolades from IBM and the Industry for Maximo Consulting Services and the Interloc Mobile Informer.
About Mobile Informer
Mobile Informer is the only native to Maximo and native to the device mobile platform for Maximo. Because Mobile Informer sits inside of Maximo, it affords you the highest security, including multi-factor authentication, and can mobilize all Maximo Industry Solutions, add-ons, and customizations. Because they are native to the device, Mobile Informer apps are 100% user accepted, providing you with the greatest productivity and fastest ROI for your business. With Mobile Informer, your "in the field" workforce don't ever need to learn Maximo to do their job.