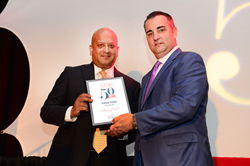 Mentor, OH. (PRWEB) July 25, 2016
Roll-Kraft's president, Sanjay Singh, has been recognized as a 2016 recipient of the Smart 50 Award in Northeast Ohio. The award celebrates Northeast Ohio's top executives in recognition of their talent to build and lead innovative companies. The companies must represent their community in terms of organization size and industry. All of this year's honorees have made a positive impact on employment and business sustainability. Smart Business Magazine conducts its annual Smart 50 awards program in various regions around the United States. The 50 honorees were recognized at an event on July 12th, 2016 presented by Corporate College, a division of Cuyahoga Community College and hosted by Smart Business Magazine.
Roll-Kraft produces tooling for the tube and pipe and roll forming industry throughout the world. The paramount focus of the company is to provide the highest quality tooling, completed on time, and capable of immediate performance upon installation at the customer's location. These goals are of such importance to Roll-Kraft, that the company tracks the data and makes it readily available on its website on a monthly basis for a period of one year.
Roll-Kraft has its headquarters in Mentor, Ohio, and maintains other facilities in Frankfort, Illinois (Roll-Kraft Northern), Houston, Texas (Roll-Kraft Texas), and Ontario, Canada (Roll-Kraft Ltd.). Calls to the company's main line, (888) 953-9400 or (440) 205-3100, are greeted by a live operator who can assist callers in quickly reaching a technician, engineer, or sales staff, who can provide immediate assistance. The company's fax number is (440) 205-3110.
Learn more about Roll-Kraft's products and services by visiting the company's website at roll-kraft.com. For easy and immediate contact with Roll-Kraft that transcends time zones and working hours, simply complete and submit an online form and Roll-Kraft will respond.