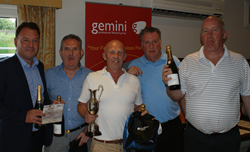 This year is our 10th Anniversary year, and we decided to double our charity support to include both Acorns and the Sutton Cancer Centre
Birmingham, West Midlands (PRWEB UK) 23 July 2016
Gemini Professional Financial Group recently held its 7th annual golf day in support of its Charity Partners – Sutton Cancer Support Centre and Acorns Children's Hospice
This year, over 80 guests, including clients, sponsors and staff assembled at Sutton Coldfield Golf Club to enjoy a day's golf and to raise vital funds for charity.
Chris Wathen, Group Marketing Manager at Gemini says, "Our annual golf day is well established in our clients calendars, and many of them are regular attendees. The day is fun and relaxed, but allows us to support our charity partners to a much greater extent than would normally be possible."
Director Jason Moore goes on to add, "This year is our 10th Anniversary year, and we decided to double our charity support to include both Acorns and the Sutton Cancer Centre. Both charities are locally based and provide valuable support in the community."
Pat Brighton, Fundraising Trustee for the Sutton Cancer Support Centre adds, "We are hugely grateful to Gemini for their continued support. We are a self-funding charity and rely on the good nature and support of our fundraisers and benefactors."
"Gemini have raised funds for Acorns in the past, and have supported us now for a while. To be their joint Charity Partner for the year is fantastic and the amount raised on their golf day is a fabulous achievement and is gratefully received," adds Joanne Danaher, Community Fundraising Officer for Acorns.
"The event raised nearly £3,500, which is split evenly between the two charities. I would like to say thank you to all those who supported the event and gave so generously," concludes Dave Thomas, Gemini Director.
For more information on Gemini – please visit http://www.gemini-pfg.com.
For more information about The Cancer Support Centre, visit http://www.suttoncancersupport.org.
For more information about Acorns Children's Hospice, visit http://www.acorns.org.uk