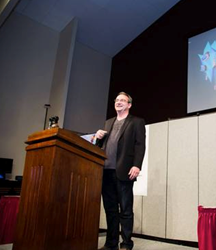 We've seen the positive results of having people with a variety of backgrounds and perspectives contributing to the game creation process.
Bryan, TX (PRWEB) July 27, 2016
Triseum, a Bryan, TX-based video game company, announced today their sponsorship of the production of a new series of video interviews tackling the longstanding issues the gaming industry has had with diversity. The first interview, released today, features Kate Edwards, Executive Director of the International Game Developers Association (IGDA). In 2013, Edwards was named one of the 10 most powerful women in the gaming industry by Fortune magazine.
"In terms of how we increase diversity in the industry and bring more women in and people of color, I use the broadest scope of the term diversity," said Edwards. "Not only by gender or ethnicity, but also different cultures and different geographies."
With criticism increasing over the lack of diversity in the video gaming industry, Triseum is opening doors for women with a diverse staffing policy. Founded by long-time gaming and film veteran, CEO André Thomas, Triseum, which focuses on higher education learning games, boasts a staff of more than 30 people that is 40% women and an 80% female senior leadership team.
"We have undertaken a thoughtful and active approach to ensuring we have diversity in our hiring practices," says Thomas, who is the former Head of Graphics for EA Sports and Madden Football. "And we've seen the positive results of having people with a variety of backgrounds and perspectives contributing to the game creation process."
While Triseum is making great strides in overcoming diversity challenges, the industry as a whole continues to struggle. The gaming industry evolved out of the tech sector over 50 years ago, and the male-dominated bias of that era still leaves a legacy of hurdles for women and minorities to clear to join the club.
"Even though many diversity hiring barriers are trying to be removed (in the gaming industry), a lot of companies are extremely aware of the fact that they need more diversity," said Edwards. "And they are striving for it, but it's difficult for them to find it."
# # #
CEO Profile: André Thomas
André Thomas has spent 20 years in CGI production and was formerly the Head of Graphics for EA Sports Football games (NCAA, Madden, Head Coach, NFL Tour). The Madden franchise is the longest running and most successful sports franchise in the history of the games industry. André was able to turn his passion for Computer Graphics into a career in 1994, when he created graphics for such notable feature films as Men in Black, Con Air, Independence Day, and Tomorrow Never Dies. He worked on the 3D feature film Valiant in 2003, after which he worked on Ant Bully. In 2007, André joined Electronic Arts and worked on over 15 shipped football games.
Thomas joined the faculty of the Visualization department at Texas A&M University in January of 2014, where he teaches Game Design, Game Development and interactive graphics techniques and founded the Learning Interactive Visualization Experience lab – LIVE lab.
Profile: Kate Edwards
Kate Edwards is the Executive Director of the International Game Developers Association (IGDA), hired in December 2012. She is also the founder and principal consultant of Geogrify, a Seattle-based consultancy for content culturalization, and a unique hybrid of an applied geographer, writer, and corporate strategist, built upon a passion for global cultures and media technologies. Formerly as Microsoft's first Geopolitical Strategist in the Geopolitical Strategy team she created and managed, Kate was responsible for protecting against political and cultural content risks across all products and locales. In the Microsoft Game Studios, she implemented a "geopolitical quality" review process and was personally responsible for identifying potential issues in all 1st party games between 1995 and 2005. Since leaving Microsoft, she has provided guidance to many companies on a wide range of geopolitical and cultural issues, and she continues to work on a variety of game franchises. Kate is also the founder and former chair of the IGDA's Localization Special Interest Group, a former board member of IGDA Seattle, the co-organizer of the Game Localization Summit at GDC, and is a regular columnist for MultiLingual Computing magazine.
About Triseum
Triseum creates high-quality learning video games, empowering players to learn through fun, engaging and immersive experiences. Games are meticulously handcrafted, fully tested and evaluated to provide the ultimate educational experience. Dedicated to creating products that disrupt the traditional learning experience. Video games are inherently a learning tool. We passionately believe that tool can provide authentic and engaging experiences for students and educators.
Triseum helps create learning opportunities for students, engaging and teaching through games, not with games, supporting bold curiosity and lifelong learning.