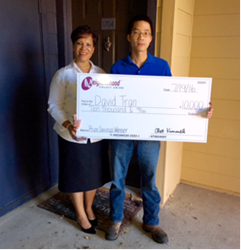 Of course, I never imagined winning $10,000!
Fort Worth, TX (PRWEB) July 22, 2016
Tuesday wasn't be just another hot July day for one Fort Worth man. He opened the door to his apartment to find Neighborhood Credit Union leaders on his porch, there to present him with a $10,000 prize, thanks to his refreshingly good savings habits.
"I have won $5 in the past, so I knew it was possible to get a prize from Neighborhood Credit Union," said David Tran, a 31-year-old engineer. "Of course, I never imagined winning $10,000!"
Tran became a member of Neighborhood Credit Union at the end of 2011. He explained that he found out about the credit union through an online search for a financial institution with good savings rates. He opened his account online and conducts nearly all of his financial services online.
Tran also is a diligent saver, automatically transferring a portion of every paycheck into his Prize Savings Account.
"It's always good to have money put away, because you never know when something might happen," Tran explained. "In my case, I am saving up to buy my first house. This $10,000 prize is certainly going to help me get there faster."
Dallas-based Neighborhood Credit Union drew David Tran's name from the ranks of its Prize Savings Account holders. Neighborhood Credit Union established the Prize Savings Account in 2008 to encourage people to save more money, at a time when the personal savings rate had dropped to one of the lowest levels in U.S. history…especially among young people.
Neighborhood Credit Union awards a variety of prizes throughout the year, including quarterly $10,000 prizes and a $25,000 grand prize at the start of each year. The more a person has saved in his or her Prize Savings Account, the more chances to win a prize.
"David Tran shows it is never too early to start saving money," said Carolyn Jordan, Senior Vice President at Neighborhood Credit Union. "We hope to see more of his peers follow his lead and save for a successful future."
See Video Clips of the Surprise Delivery to David Tran:
https://youtu.be/zaO2oAW3zCI