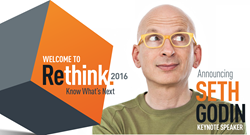 Dayton, NJ (PRWEB) July 25, 2016
Impact XM is proud to announce best-selling author and renowned marketing expert Seth Godin as the keynote speaker for its 13th Rethink conference. The one-day innovation summit for events is Impact XM's annual spotlight on trends and inspiration in experiential and face-to-face marketing. The event includes influential speakers, trend-spotting updates, and a hands-on tech fair with cutting-edge interactive technologies.
Seth Godin is a world-famous author, tech entrepreneur and philanthropist, as well as a recent inductee into the Direct Marketing Hall of Fame. He's written 18 books about marketing, leadership, and the way ideas spread. Several of his books have become international bestsellers, and his work has been celebrated by such top media outlets as Bloomberg Businessweek, Forbes, Amazon, and Fast Company.
Godin's book "All Marketers Are Liars: The Power of Telling Authentic Stories in a Low Trust World" reflects a philosophy of authenticity that is in direct correlation with Impact XM's Making Stories Matter brand campaign. As Godin writes, "Stories make it easier to understand the world. Stories are the only way we know to spread an idea. Marketers didn't invent storytelling. They just perfected it." With over 40 years of experience, Impact XM has mastered the art of crafting face-to-face experiences. Together, we believe authenticity can turn an event into an experience and a brand story into a strong memory.
Rethink will be held on Wednesday, August 3, 2016 at the Westin Princeton at Forrestal Village in Princeton, New Jersey.
# # #
About Impact XM (http://www.impact-xm.com)
Impact XM is a global experiential marketing agency with a forty-year heritage of crafting strategic audience engagements that power brand experiences. Headquartered in New Jersey, Impact XM also maintains locations in Toronto, Chicago, Las Vegas, Los Angeles, San Francisco, and Zurich.
With Impact XM, you own the moment. Deep, meaningful connections that tell your story like never before. From standout environments to breakthrough engagements, spot-on strategies to actionable analytics, we pour our hearts and smarts into helping you capture imaginations along with loyalty. We're a global innovator with a reputation for thinking farther, faster. Impressions matter. Impact matters more.