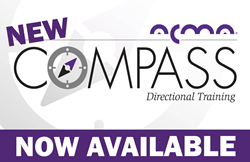 The benefit of a standardized set of training modules that covers all aspects of case management is immeasurable to quality care.
Little Rock, Arkansas (PRWEB) July 25, 2016
The American Case Management Association (ACMA) is pleased to announce the 2016 release of this popular online learning system designed to provide standardized training for case managers and now physician advisors.
Compass provides a comprehensive foundation of knowledge of case management and physician advisory practices in an easily-accessible web-based format. Content is divided in to interactive modules that average 30 minutes in length. Module content was developed by an interdisciplinary taskforce of case management leaders, and includes interactive case studies and competency quizzes. Trainees earn annual continuing education credit for completing training topics, and health care leaders can generate organization-level performance reports to validate standardization of knowledge across all members of their coordinated care teams.
The 2016 release offers an updated curriculum that now features two comprehensive course libraries – one for case managers and one for physician advisors. Content has been updated to reflect current regulations, policies and practices. The new platform features streamlined navigation, interactive training modules with built-in case studies and knowledge checks, and optional integration with external learning management systems.
The program offers 12 hours of continuing education for nurses, social workers and those with their Accredited Case Manager (ACM) certification. It also includes 15.25 AMA PRA Category 1 CreditsTM for physicians jointly provided by the Postgraduate Institute for Medicine and ACMA.
Compass is currently in use at over 1,000 hospitals nationwide. According to Monica Vickery, Director of Case Management and Utilization Management at the University of New Mexico Health Sciences Center, Compass is an invaluable training tool for all levels of case managers. "We have it as 'required' training for all new staff within the first six months of hire and are rolling it out as 'required' for existing staff before the end of the year. The benefit of a standardized set of training modules that covers all aspects of case management is immeasurable to quality care."
To learn more about this comprehensive training system or to schedule a live demo, contact Aaron Van Son at avanson(at)acmaweb(dot)org or 501-907-2262. You can also visit http://www.acmaweb.org/compass.
About ACMA:
Founded in 1999, the American Case Management Association (ACMA) is a national, non-profit, professional membership association, which strives to provide resources, solutions and support for Case Management and Transitions of Care professionals. ACMA is comprised of more than 6,300 members nationwide, including nurses, social workers, physicians and other professionals affiliated with case management. Through a variety of educational conferences and networking events at both the state and national level, ACMA provides its members with numerous opportunities to develop their skills, grow in their profession and learn from the experiences and practices of fellow members. For more information, visit http://www.acmaweb.org.