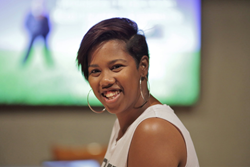 Carpenter says, " If an investor can find a low-cost property then it is much easier to obtain passive income by keeping it and renting it out."
Washington DC (PRWEB) July 25, 2016
Author, and Billwood Properties owner Whitney Carpenter is no stranger to the rapidly changing investment market. Utilizing her experience with over 200 investments under her belt, Whitney shares two pieces of advice that she believes are crucial in today's market.
The first tip to consider when evaluating whether your investment should be a "flip" or a rental is location. In other words, are there a plethora of rental homes adjacent to the home? Or are there more homeowners in this prospective neighborhood? "This factor can directly influence which direction will be the most beneficial for your property," says Carpenter. "If there are an abundance of rentals in the area, then you know you can rent it all day long. On the other hand, if there are several homeowners in the area, it would be a better location just to flip it." It is also important to identify areas of population and job growth. If numerous people are vacating a particular area or neighborhood, perhaps there is an underlying issue that the investor should investigate before deciding.
The next tip you should consider is to evaluate the price. If your property is in a high-dollar market, you will make more money by flipping the house. The author states, "It is difficult to impute enough rental income to an expensive property and create a positive cash flow. Instead of keeping it, the investor would fare much better by flipping the house. However, if an investor can find a low-cost property then it is much easier to obtain passive income by keeping it and renting it out."
Carpenter also recommends following the economic cycle, "When renting your properties make sure to consider whether or not the economy is recession. Set a low rental or sale price point when the economy is in a recession because renters and buyers are more cautious. However, when the economy has a growth spurt it is the best time to set your price point higher."
About the author and YouTube star: Carpenter's expertise in real estate not only benefited her personally but also supported her family in ways she could never imagine. The author who once waited tables at the Waffle House has now become a savvy business person. Real Family Business and The Passive Way to Passive Income share Carpenter's career experience and passion. Her story is captured through a narrative exploration and film detailing her journey to success. Carpenter gives insight on how networking and hard work helped boost her comprehension and love for the business.
For more information about Real Family Business, A Passive Way to Passive Income or about the author log onto http://www.whitneycarpenterauthor.com.
###