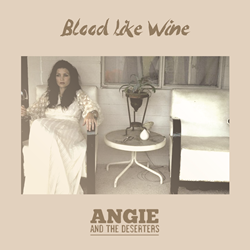 An action packed opening single like Country Radio can only mean great things from the upcoming EP release. Bruyere is throwing down the gauntlet here and announcing herself as a vital, formidable force to be reckoned with from hereafter.
Los Angeles, CA (PRWEB) July 26, 2016
Americana and Alt-Country band, Angie and The Deserters are set to release their new Blood Like Wine EP and their second single "The Gift" this summer. The six- song collection was released on all digital stores including iTunes and Amazon through Topanga Canyon Records. The band includes Angie Bruyere, Kyle Stevens, Danny Hulsizer and Chris Lawrence.
This EP is a follow up to the group's debut full- length release, West of The Night in 2015. The album turned heads at Fender who offered Angie a sponsorship that featured her as Fender's artist of the month which was then followed by two Fender Sessions.
Angie showcases her talented and poetic song-writing skills in the Americana record, Blood Like Wine. At the root of the album, Angie's collection of intimate poems bloom into a distinctive alternative country landscape that is joined with gliding strings and western riffs. The six-song release reveals Angie's raw and raspy vocals that bring truth and realism to her lyrics.
Blood Like Wine includes the band's lead track "Country Radio" which highlights a possible love affair between a female country fan and her idol. The band recently released their new music video for "Country Radio" which was filmed in Joshua Tree, California and directed by Mike Bruce (Black Mountain, Paul McCartney, Noel Gallagher, & The Dandy Warhols).
The six-song release also features the second single "The Gift". This track emphasizes a dying love story of a lover who begins to lose hope in their partner's compassion and desire in their relationship. Angie's cryptic and haunting vocals accentuate the lyrical message of the song as she begs the question "would you die for me, too?"
Angie and The Deserters' 2016 summer release will be followed with an additional EP that will be distributed later in the year. This second EP will include the second half of Angie's Nashville recordings that were created in the famous Castle Recording Studios with well-known country producer, Jeff Huskins (Keith Urban, Carrie Underwood, Clint Black, Shania Twain).
On each record, Bruyere was able to work with renowned musicians such as; Troy Lancaster (Loretta Lynn, Tim McGraw, Taylor Swift), Aubrie Haynie (Blake Shelton, Hank Williams Jr., Merle Haggard), Scott Sanders (Kenny Chesney, Taylor Swift, Alan Jackson), John Willis (Johnny Cash, Van Morrison, Kenny Rogers), Kevin "Swine" Grant (Willie Nelson, Linda Ronstadt, Toby Keith), Fred Eltringham (Miranda Lambert, Keith Urban, Sheryl Crow), Evan Hutchings, Dave Doran and mastered by legendary and Grammy Winning, Bob Ludwig (Rolling Stones, Led Zeppelin, Jimi Hendrix).
The band's efforts have not gone unnoticed, already Angie and the Deserters have been featured in Maverick magazine in addition to receiving significant airplay and glowing reviews for their single "Country Radio." Band Blurb mentioned "Angie Bruyere has chosen her collaborators wisely, but her vocals and lyrical talents are the undisputed star of the show." Indie Music told its readers, "An action packed opening single like this can only mean great things from the upcoming EP release. Bruyere is throwing down the gauntlet here and announcing herself as a vital, formidable force to be reckoned with from hereafter."
View the video for "Country Radio" - https://www.youtube.com/watch?v=6HAMMYf-LFc