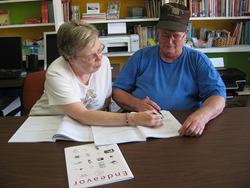 With its ongoing support, ProLiteracy is providing one of the greatest gifts you can give, the gift of education.
Syracuse, NY (PRWEB) July 25, 2016
ProLiteracy has awarded $122,180 in grants to literacy programs nationwide this year. For over 20 years, the National Book Fund® has aimed to put books in the hands of 250,000 adult learners nationwide by providing adult education and literacy programs with grant awards to help purchase high-quality educational materials and resources.
The National Book Fund awards organizations that provide service in the following areas: basic literacy, adult basic education, English language learning, high school equivalency prep, and family literacy. New Readers Press, the publishing division of ProLiteracy, provides the books and materials for the grant program. These high-quality instructional materials are specially written to meet the needs of adult literacy students, instructors, and trainers.
To date, the National Book Fund has provided more than 1,700 grants, totaling close to $3 million in books and materials to adult literacy organizations across the United States. As a result, approximately 350,000 students have benefited. The National Book Fund has also provided nearly 40,000 instructors with the capacity-building resources they need to impact adult literacy within their community.
"There are 36 million adults in the United States who lack basic education and literacy skills. While the number of people seeking help keeps growing, public funding for literacy programs has dropped. When local nonprofits are forced to reduce spending, the materials budget is often the first to be cut. The National Book Fund® is one of the ways that ProLiteracy helps local adult literacy programs each year," says Kevin Morgan, president and CEO of ProLiteracy. "For adult students, literacy is the key to higher learning and a window to the world. ProLiteracy is proud of the legacy of the National Book Fund and the grant awards that are so critical for struggling nonprofit adult literacy programs. Every year, we receive a number of compelling, high-quality applicants, and we are pleased to be able to offer grants to these deserving programs.
"We greatly appreciate the donors that join us in raising awareness and in helping to improve so many lives through literacy. We are pleased to partner with esteemed and impactful organizations and individuals who have continuously supported the National Book Fund since its inception in 1995. The generous support of these organizations has made it possible for the fund to continue another 20 years. To build on what these donors have started, the Nora Roberts Foundation has offered ProLiteracy a unique matching opportunity of up to $100,000, allowing ProLiteracy to serve twice the number of students," Morgan said.
Jane E. Ferreira, president and CEO of Mercy Learning Center (MLC) in Bridgeport, Conn., said, "With its ongoing support, ProLiteracy is providing one of the greatest gifts you can give, the gift of education. Thanks to the National Book Fund award, the women at MLC will meet their goals—whether it is speaking English without fear, applying math concepts to household budgeting, or feeling empowered to live a more engaged civic life. No matter where they start, all MLC students will feel the progress that comes with increased knowledge."
For a list of grant recipients and additional information on how to invest in the future of adult literacy, visit http://www.proliteracy.org/What-We-Do/Programs-Projects/National-Book-Fund.
About ProLiteracy
For more than 60 years, ProLiteracy has been working across the globe to create a world where every person can read and write. ProLiteracy promotes adult literacy through content development, programs, and advocacy. Our goal is to help literacy programs increase the quantity and quality of services provided. ProLiteracy has 1,000 member programs in all 50 states and the District of Columbia and works with 30 nongovernmental organizations in 25 developing countries. For more information about ProLiteracy, please visit http://www.proliteracy.org.