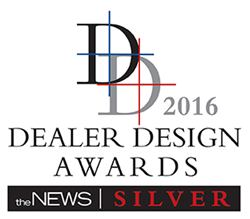 Aeroseal gives HVAC professionals the key to business growth.
Centerville, OH (PRWEB) July 27, 2016
Aeroseal LLC was recognized for excellence in product design in two separate categories in the 13th annual Dealer Design Awards, sponsored by The Air Conditioning Heating & Refrigeration News magazine. The company's HomeSeal PRO was named silver award winner in the HVAC High Efficiency Residential Equipment category and its Mobile PRO was named silver award winner in the Ventilation Products category.
Aeroseal is the sole owner and licensee of aeroseal duct sealing technology, an innovative approach to duct sealing that works from the inside of the duct system to seal leaks. Originally developed with funding from the U.S. Department of Energy, the technology's unique approach to duct sealing provides HVAC professionals with a fast and highly effective means of cost-effectively sealing ductwork in both homes and commercial buildings.
These two 2016 Dealer Design Awards were given to products specifically designed by Aeroseal to enhance the productivity and service offerings of its worldwide network of residential dealers. The Aeroseal HomeSeal PRO adds wireless capabilities to the company's award-winning duct sealing system, allowing technicians to perform multiple activities while simultaneously facilitating the duct sealing process. The Aeroseal Mobile PRO combines the HomeSeal PRO's wireless duct sealing system with all of the equipment and accessories used in the sealing process – all pre-assembled and ready to run directly from within the Mobile PRO trailer.
"Both of these award-winning products highlight our ongoing efforts to maximize the value our partners get when they become Aeroseal dealers," said Bryan Barnes, Aeroseal's senior director in charge of residential duct sealing solutions. "Our technology gives homeowners the best way to increase the energy efficiency, indoor air quality and comfort of their homes. Our equipment gives HVAC professionals the key to business growth."
Winners of this year's Dealer Design Awards were chosen by a panel of independent contractors that served as judges in a contest that had 88 entries.
"These awards give us a unique opportunity to recognize the outstanding research and development efforts that go into many of the products serving the HVACR industry and the awards issue gives our readers an opportunity to read about innovative installation and service solutions," said ACHR News publisher Mike Murphy.
For more information about the DDA Awards from ACHR News visit ACHR News website. For more information about HomeSeal PRO, Mobile PRO or becoming an licensed Aeroseal dealer visit http://www.aeroseal.com.