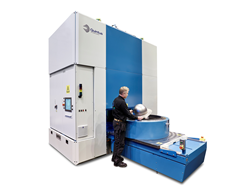 The new family of Quintus deep-drawing fluid cell presses is specifically aimed at the ersatility requirements within the jet engine industry.
Lewis Center, OHIO (PRWEB) July 26, 2016
Quintus Technologies has delivered a hydroform deep-draw press to Electro-Methods, Inc. (EMI), the South Windsor, Conn.-based supplier of turbine engine components. In the face of robust demand from the jet engine industry, the new 4,000 ton press-force press will expand EMI capabilities, further enabling the production of intricate shaped sheet metal parts and assemblies.
"We have a long history in the aerospace fabrication business, and with this new investment we are able offer additional capabilities to our customers, primarily General Electric and Honeywell," says EMI President Randy Fries. "We are used to tough fabrication demands from our customers and are now well positioned and keen to support the expected ramp-up requirement in the aerospace industry."
Along with excellent forming capabilities, the Quintus press requires only a single rigid tool half, significantly reducing tool costs. The other half of the tool is a flexible rubber diaphragm under uniform hydrostatic pressure. Material draw ratios of up to 3:1 eliminate several forming operations, intermediate heat treatments, and operator dependencies. The high forming pressure ensures close-tolerance parts direct from the press, with little or no secondary hand work required.
"Electro-Methods has received many awards for its diverse capabilities, which enable the manufacture of the most complex fabrications and assemblies, including flight-safety-critical turbine engine components," says Jan Söderström, CEO of Quintus Technologies in Sweden. "The new family of deep-drawing fluid cell presses that Quintus has developed over recent years is specifically aimed at the versatility requirements within the jet engine industry, making this press a good fit for EMI."
Adds Ed Williams, Quintus General Manager–Americas, "EMI's choice of the 11,600 psi deep-draw press will support the demand for fabrication of low-weight and very tough metal alloys, required by jet engine designers seeking fabrication solutions for fuel-efficient aircrafts."
About Quintus Technologies
Quintus Technologies specializes in the design, manufacture, installation, and support of high-pressure systems for sheet metal forming and densification of advanced materials and critical industrial components. Headquartered in Västerås, Sweden, and represented in 35 countries worldwide, the company is the world leader in high-pressure technology and has delivered more than 1,800 systems to customers across the globe within industries such as aerospace, automotive, energy, and medical implants. Read more about Quintus Technologies at http://www.quintustechnologies.com.
About Electro-Methods, Inc.
Located in South Windsor, Conn., since 1965, Electro-Methods, Inc., is an award-winning manufacturer of complex fabricated and machined aerospace assemblies and components. With a 140,000-square-foot campus encompassing five modern buildings, Electro-Methods has long been considered a one-stop-shop by OEM customers due to the numerous special processes performed in-house, while its ability to internally control the quality and delivery of manufactured parts brings superior value to the marketplace. Known for extensive experience with concurrent engineering, EMI's talented engineering and manufacturing teams have assisted numerous OEM partners on cutting-edge turbine engine programs, taking design concepts to production reality.
Read more about Electro Methods at http://electro-methods.com/