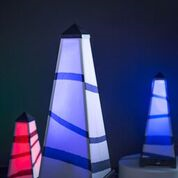 The early adopters of this new sound and light technology will receive their XOUNTS UP this fall, just in time for tailgating, cookouts and holiday parties and events.
New York City (PRWEB) July 26, 2016
After the successful launch of the new XOUNTS UP speaker on Kickstarter, where crowdfunders committed nearly $80,000 to bring the world's only sound system merging 360-degree stereo with colors and light into full production, XOUNTS Co-Founder Oliver Richter has announced the company will continue offering early-bird discounts on the system at crowdfunding site Indiegogo InDemand.
"We're excited and grateful to all the music lovers who supported XOUNTS UP on Kickstarter and the versatile, mood setting sound system we created especially for them," Richter said. "We've also enjoyed personalizing the speaker cover for various events during the course of the campaign, like the red-white-and-blue theme developed for the July Fourth Holiday and special designs for NBC's Tonight Show, which showed how the speakers could be customized for any party or celebration."
Richter adds that the early adopters of this new sound and light technology on Kickstarter, and on Indiegogo InDemand will receive their XOUNTS UP this fall, just in time for tailgating, cookouts and holiday parties and events. With its optional internal battery pack, XOUNTS UP is portable and can play up to nine hours in remote settings where electricity isn't available – making it ideal for outside parties and events.
An all-in-one sound system that delivers perfect stereo surround-sound combined with atmospheric light, personalized design and easy wireless multimedia networking, XOUNTS UP has received many accolades from media reviewers and audiophiles for the top quality sound delivered by its subwoofer for the lower sounds and its complete-unit vibration for the middle and higher frequencies.
XOUNTS UP was also praised for its eclectic pyramid-type tower design, concealed cables, the ability to be customized to any room or party theme, and the ease with which it could be easily controlled from any smartphone and connected via Bluetooth, dongles, Apple Airplay, SONOS and other existing sound systems – in addition to lighting components like Philips HUE or LIFX.
The XOUNTS concept has already received numerous test recommendations and awards.
"If music is part of your life, you love rich, enveloping sound and you want a new music experience, the XOUNTS UP is what you're looking for," Richter said.
The basic XOUNTS UP is now available for pre-order on Indiegogo InDemand at discounted pricing of $269 – a savings of 39 percent off the regular retail price.
About XOUNTS
Frank Otto and Oliver Richter are the passionate initiators and creators of XOUNTS UP. For more than 20 years, the two have been working together prior to jointly launching XOUNTS seven years ago to create the best for all music lovers and the most flexible sound system in the world. Their products, XOUNTS and its successor, XOUNTS UP, are regarded as cutting-edge digital musical products and have won numerous test awards and prizes. For more information, visit http://www.xounts.com.