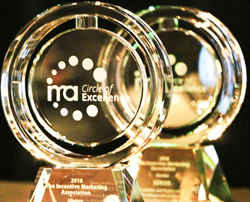 "This year's award winners truly show how business improves with well-designed incentive programs that support business objectives," said Joe Zanone, 2016 Circle of Excellence Awards chair.
MINNEAPOLIS (PRWEB) July 28, 2016
Five Incentive Marketing Association (IMA) member companies and their incentive partners took home awards for outstanding successful employee and sales incentive programs designed to help drive business. The 2016 IMA Circle of Excellence Awards were presented at the IMA Annual Summit in Houston, Texas last week.
"This year's award winners truly show how business improves with well-designed incentive programs that support business objectives," said Joe Zanone, 2016 Circle of Excellence Awards chair.
Launched in 2000, the IMA Circle of Excellence Awards identify and recognize outstanding examples of successful customer and employee incentive programs designed to help improve business. Both the company and the incentive marketing partner are recognized. The 2016 winners are:
Power2Motivate with Brother International Australia – Consumer Offer/Branding Program/Customer Loyalty
Power2Motivate was asked to provide an "out of this world" idea for Brother International Australia's key back-to-school high sales period. The Brother $100K Prize Giveaway Program exceeded all goals for sales, participation, engagement and usage. The program, which increased sales by 28 percent over the previous year, was targeted to printer and hardware resellers across Australia. Travel incentives were selected for the top prizes because of the demographics and location of the business owners, who may not vacation often. For each minimum monthly purchase of Brother hardware resellers earned points toward a travel grand prize. Additional points and instant wins were earned through a "Spin to Win" game of chance where resellers earned instant points toward a wide range of rewards.
Fusion Marketing with Sprint – Dealer Distributor Incentive
Participation in the "Sprint Rewards Me" dealer channel incentive program had dwindled to 30 percent since the program's inception in 2008. In 2014, Fusion Marketing was asked to refresh and rebrand the program, which was re-launched in early 2015. Designed to appeal to Sprint's primarily millennial dealer demographic the program was designed to make them feel personally rewarded and featured significant promotions throughout the year. Sales reps were able to redeem points for cash, via a re-loadable Visa debit card, and merchandise via third-party integration with a rewards partner. Participation in the revitalized program grew to 78 percent with active, enrolled reps outselling non-enrolled reps three to one. Replacing the outdated technology with new, more sophisticated technology, created many efficiencies, which enhanced the overall success of the program.
Corporate Rewards with Wincanton – Recognition Program
After introducing a new company vision, mission and core values, Wincanton brought in Corporate Rewards to develop and launch a program to engage employees in the new company culture. Historically recognition had been inconsistent and employee surveys highlighted need for change. Corporate Rewards engaged company leaders in defining program goals and involved them in training and communication throughout the development and launch of the online employee engagement system called "Your Recognition". The new program allowed every employee to send an e-card to an employee who demonstrated one of the company values. A sporting theme incorporated images of sports medals to convey achievements and performance. Senders awarded points to the recipient by selecting bronze, silver or gold level reward. The highly successful program exceeded all goals including over 25 percent more thank you's sent.
Solterbeck/Sensis –Sales Incentive Program and Employee Incentive Program (2 awards)
Sensis brought in Solterbeck to help boost employee engagement and drive revenue growth across multiple product lines after the company was acquired by a private equity firm. The existing incentive program, which offered 40 rewards, was often maxed out well before year end, thereby not offering the same chance of reward to all sales staff. Sensis was looking for a fresh approach that focused on performance throughout the year. Solterbeck created "Performance First". Eligible sales team members participate in six different "Sales Sprints", receive recognition and have their sales commissions calculated for each Sprint. The program offered large travel, medium and small rewards. The sophisticated program relied on three, fully-integrated software solutions that allowed Sensis to provide a single source for all sales and reward activity information in one place. Sensis significantly increased revenue and program participation while greatly reducing costs, and they received many supportive and appreciate comments from sales team members.
Ciloyalty with Bupa Australia – Recognition Program
Bupa, a large health insurance and care-home provider with more than 80,000 employees asked Ciloyalty to help restructure and rebrand its aging "Bupa Sales Academy". Staff surveys and focus groups identified that personal recognition was more valued than prizes. The new "Bupa Boost" program focused on creating a culture of recognition and providing a morale boost to Bupa's employees who work hard to look after the health of others. While the Academy focused on revenue goals, the Boost program put customers first by encouraging better outcomes for clients through smart business practices and strong customer service. Depending on their roles employees are rewarded monthly, quarterly and yearly. The Boost Reward Team also runs discretionary programs that complement the monthly and quarterly incentives, creating competitions that fill the gaps identified in the business' capability or performance. Participation in Bupa Boost far surpassed the Academy with more than double the number of participants.
About the Incentive Marketing Association
The Incentive Marketing Association (IMA) connects members from leading companies across the marketplace to create a unified voice and growth for the incentive industry. IMA is the umbrella organization for the Incentive & Engagement Solution Providers (IESP), Incentive Gift Card Council (IGCC), Incentive Manufacturers & Representatives Alliance (IMRA), Incentive Travel Council (ITC), IMA Europe, and IMA Canada. IMA members have the expertise, leading brands and services to help companies improve their business with recognition, reward and engagement programs.