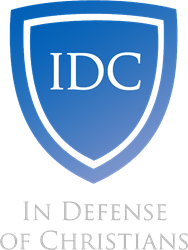 Washington, D.C. (PRWEB) July 26, 2016
IDC shares the grief of the people of France, the Catholic Church, and the global community today, as we mourn the brutal murder of Father Jacques Hamel by ISIS terrorists in a church in Saint-Etienne-du-Rouvray in Normandy, France this morning. The 86-year-old priest was beheaded while two nuns and two parishioners were held by assailants who raided the church, before being gunned down by police. At least one of the hostages, a Catholic nun, is reported to be fighting for her life in a local hospital.
This morning IDC Executive Director Kirsten Evans stated: "The particular targeting of clergy, both priests and nuns, by radical Islamic terrorists is now as familiar as mass shootings. It has been a characteristic of the violence of ISIS, Al Qaeda, and their affiliates from Iraq to Syria to Yemen -- and now France.
"It is no accident that priests and nuns have become a special target. Clergy are non-violent servants of their communities, Christian and Muslim, around the world. The goal of ISIS and their affiliate violent extremists is to frame the current struggle as one between Muslims and Christians. It is, on the contrary, a struggle between people of good will and these violent extremists, purveyors of evil and hatred.
"This unspeakable act of barbarism is still another example of why the Islamic State must be destroyed swiftly by the community of civilized nations. And ideologies of hatred of violence must be rooted out at their sources, ideological and financial."
IDC offers its deepest condolences to the families and communities of the victims and stands in solidarity with all communities targeted for violence by Islamic terrorism because of their faith, ethnicity, nationality, or way of life.